The cast and crew of 'Top Gear' are in the midst of a BBC probe over racist and culturally insensitive language, according to reports.
According to The Mirror, presenters Jeremy Clarkson, James May and Richard Hammond have all been quizzed, as has executive producer Andy Wilman, as part of a "review of the programme's culture", ordered by BBC director of television, Danny Cohen.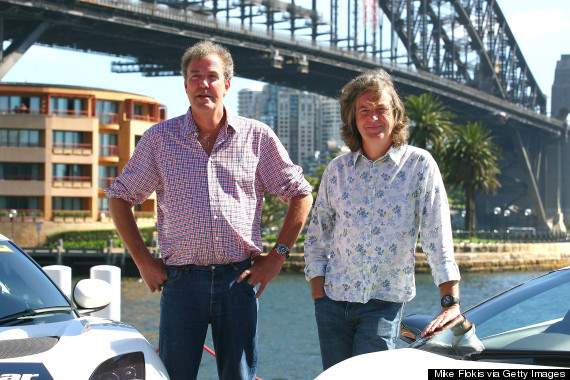 Jeremy Clarkson and James May from 'Top Gear'
A source told the newspaper: "After everything that has gone on, Danny wanted to find out if there was a wider cultural problem at 'Top Gear'. Workers were able to take part anonymously and were encouraged to speak honestly and freely."
It's also been claimed that the show's staff have been asked if they feel the show is racist, and whether or not they would feel comfortable speaking out if they felt something was unacceptable.
The investigation follows several racism scandals to have hit the BBC series in recent times, most notably when unaired footage of Jeremy Clarkson mumbling a racist slur as he recited the children's rhyme 'Eeny, Meeny, Miny, Mo' during a recording of 'Top Gear' surfaced online.
Although Jeremy apologised for the clip, insisting the slur was a word he 'loathed', many offended viewers called for him to be sacked, and he's since revealed: "I've been told by the BBC that if I make one more offensive remark, anywhere, at any time, I will be sacked."
Meanwhile, Ofcom ruled last month that the BBC had breached broadcasting guidelines by including the racially insensitive term 'slope' in another episode of the show, screened in March.
A statement from the broadcaster read: "After a thorough investigation, Ofcom has found the BBC breached broadcasting rules by including an offensive racial term in Top Gear, which was not justified by context."
LIKE US ON FACEBOOK | FOLLOW US ON TWITTER