You can always rely on Kanye West to come out with some crazy shizzle on what seems like a daily basis (it is), but your eyebrows may actually vacate your head altogether when you hear his latest theory.
Just a day after we learned the rapper had modestly declared himself as 'the smartest celebrity' around, it's emerged that he's getting his designer gold lamé boxers in a right old tizz over fears his one-year-old daughter, North, will be electrocuted by flying drones. Kanye West
Mr. Kim Kardashian made the comments during a deposition after he was charged with criminal battery and attempted theft following a bust up with a pap in 2013.
In the transcript obtained by US website TMZ, Kanye is said to sarcastically ask a lawyer: "Is your daughter stalked by like drones? Are there drones flying where she's trying to learn how to swim at age 1?"
He continues: "Wouldn't you like to just teach your daughter how to swim without a drone flying? What happens if a drone falls right next to her? Would it electrocute her?"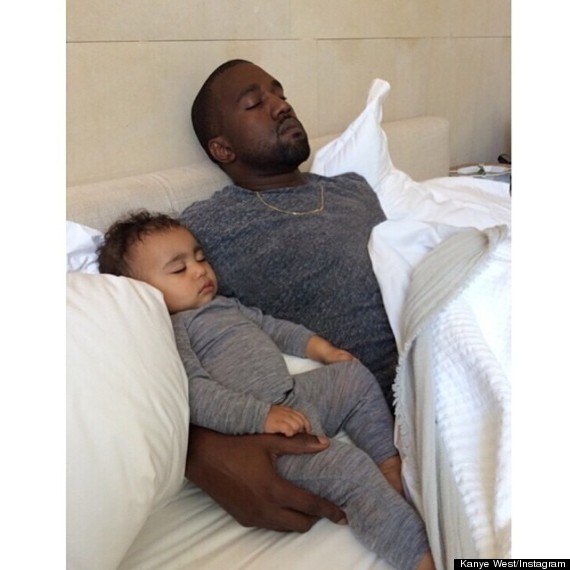 Kanye with his daughter, North
When he was asked how it would be possible, he says: "Could it fall and hit her if that paparazzi doesn't understand how to remote control the drone over their house?"
It was during the same deposition that Kanye claims to be the Einstein of the celeb world, and dragged poor old Britney up to illustrate the point.
"I'm the smartest celebrity you've ever f***ing dealt with. I'm not Britney Spears," he said, somewhat unconvincingly.
Kanye was sentenced to two years probation, 250 hours community service and anger management sessions after allegedly attacking Daniel Ramos and damaging his camera outside LAX airport in July 2013.
Smart move, Kanye.
FOLLOW BAGGERS BITES ON TWITTER