Lashing rain and fierce winds have battered parts of Britain today as ex-Hurricane Bertha swept across the country bringing disruption in its wake. Homes were flooded, music festivals were cancelled and sporting contests had to be re-routed as nearly a month's worth of rain was dumped over parts of Britain in just a few hours. Heavy winds gusting at up to 70mph battered the country as the Caribbean tropical storm swooped across the UK. It struck Cornwall in the early hours of the morning, before moving east and northwards thunderstorms with it. Torrential showers saw 40.6mm of rain fall on Cardiff overnight, while Wisley in Surrey was hit by 18.4mm of rainfall in just one hour, between 9am and 10am this morning. The number of Met Office flood warnings in force steadily climbed over the course of the day, with 41 in place shortly before 4.30pm this afternoon and spanning all of Britain.
Meanwhile Met Office yellow weather warnings telling people to "be aware" of rainfall for England, Wales and Scotland have now also been extended to Northern Ireland. Laura Young, a Met Office spokeswoman, said the remnants of Hurricane Bertha had hit and travelled through Britain as predicted. They eye of the storm will have passed over the coast of Britain by 5pm or 6pm but will linger off the north coast meaning the turbulent weather will last into next week. Rachael Vince, a forecaster with MeteoGroup, said: "The main area of persistent rain is through most of Northern Ireland, across south and west Scotland. We had a line of thunderstorms running from northern Yorkshire down to the Greater London area. They developed and went out, but most of the southern half of the UK saw some thundery activity. So those doing the bike race through Surrey and London would have got quite soggy."
Homeowners in Kent armed themselves with buckets as they desperately tried to mop up after the storm flooded some properties. In Norfolk firefighters battled to pump the floodwater out of 10 homes that had been hit while in the Humber officers said they received a "high volume" of flood-related calls. London's St James' Park endured 17mm of rain between 7am and 1pm today, but the London Fire Brigade (LFB) admitted some flood-hit Londoners faced delays in getting help because of a strike by fire crew. LFB said on Twitter: "Apologies if you've been waiting for LFB to attend a flood-related call. We are currently unable to attend because of FBU strike action." Organisers had to postpone the prestigious Sevenstar Round Britain and Ireland Race, which was due to kick off in Cowes on the Isle of Wight today. It will set sail at 9am tomorrow instead, to allow the stormy weather to subside. The RideLondon Surrey Classic, which sees more than 20,000 cyclists pedal through rural Surrey before ending on the Mall, was shortened from 100 miles to 86 - missing out the infamous Box Hill climb - amid fears of heavy rain.
The last day of the Boardmasters music and surfing festival in Cornwall was axed while Brittany Ferries said it had cancelled its four fast-craft catamaran services between Portsmouth and Le Havre and Cherbourg in France today. While South West Trains services were blighted with delays after a tree fell onto the track in Wareham, Dorset. But fears of widespread flooding and evacuations appeared not to materialise. The Red Cross had mobilised hundreds of volunteers who are on standby to help anyone affected by the storm, but did not need to deploy them. Turbulent weather already wreaked havoc across the east coast of Britain on Friday night, leaving many homes flooded and causing power cuts in 1,400 properties. Fire crews in Norfolk, Cambridgeshire and Lincolnshire battled to pump gallons of water out of swamped properties, while marooned drivers had to abandon their cars as they became stuck in flooded roads. Ms Vince said that after basking in a glorious heatwave for much of July, the curse of the typical British summer had struck again. She said: "We did have that heatwave in July, so it is feeling distinctly more autumnal this week as a whole.
"But it is a typical British summer - really a bit of rain in August is nothing unusual. The centre of the storm will have passed over the coast of Britain by 5pm or 6pm. But we are in an unsettled spell of weather for this week with showers and perhaps some thunderstorms through the rest of the week." Temperatures will hit highs of 23C in the south east today, and hover in the mid-teens in the north of England and Scotland. But the wind and rain will make most of the country feel far cooler. Neil Davies, Environment Agency Flood Risk Manager, warned people to be on their guard because of the adverse weather. He said: "These heavy showers may lead to localised surface water flooding in some parts of England. The rainfall is accompanied by strong westerly winds, with speeds of up to 70mph in the North East later today. The combination of these gusty conditions with high spring tides bring a risk of spray and wave overtopping leading to a risk of localised coastal flooding along parts of the south-west, north-west and north-east coasts of England."
The north of England and Scotland will be hit by more wind and rain over the coming days, while in the south showers will be interspersed with sunny spells. Network Rail said train passengers in the south of England had faced delays after bad weather caused flooding at Fulwell station in south-west London, and a tree to blow on to the track on the Henley train line. And in north London, Turnpike Lane station, on the Piccadilly line, was forced to close this afternoon because of flooding.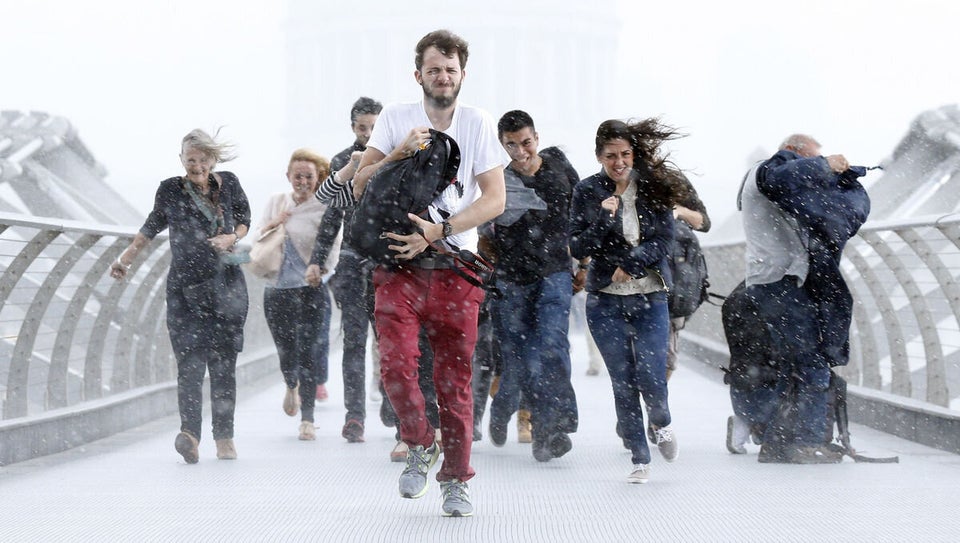 Ex-Hurricane Bertha Hits
Related