A tiny hamlet in France is being urged to change its name - rather unsurprising when you learn it is called 'La Mort aux Juifs'.
If your French is a little rusty this translates as 'Death to the Jews'.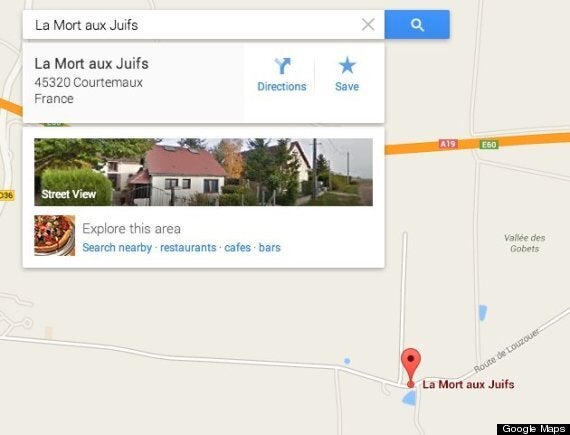 As it appears on Google Maps
The SCW's director, Shimon Samuels, said in the letter: "It is extremely shocking that this name has slipped under the radar in the 70 years that have passed since France was liberated from Nazism and the (pro-Nazi) Vichy regime.
Its name dates back centuries, possibly even as far back as 1306 when Jews were expelled from France en masse by King Philippe Le Bel.
Courtemaux's Deputy Mayor, Marie-Elizabeth Secretand, told AFP: "It's ridiculous. This name has always existed.
"No one has anything against the Jews, of course. It doesn't surprise me that this is coming up again."
Renaming the Hamlet would require the municipal council to agree to the change, which seems unlikely.
Secretand said: "Why change a name that goes back to the Middle Ages or even further? We should respect these old names."
It's a particularly sensitive time for Europe's Jewish population as a rise in anti-semitic attacks has been recorded in a number of countries.
Samuels wrote: "The current surge in public and violent expressions of anti-Semitism makes us uneasy regarding the motives of those seeking to reside at such an address.
"The earliest removal of this genocidal name and its replacement with an identity rather more welcoming to all."
Earlier this year a town in Spain found itself in almost exactly the same situation.
Popular in the Community