Brendan Rodgers has likened Liverpool forward Raheem Sterling to Lionel Messi.
Sterling, brought into the Reds' first-team by Rodgers two years ago, excelled last season in a dynamic front three alongside Daniel Sturridge and Luis Suárez.
The 19-year-old scored nine Premier League goals and has been bright in pre-season despite the disappointment of England's World Cup campaign.
With Suárez no longer a Liverpool player, the teenager's worth is greater than ever at Anfield and Rodgers has paid him the ultimate compliment.
"When you look at the finish against Manchester City in New York," Rodgers told the Liverpool Echo, "how many times have we seen Messi produce a touch like that? Taking it through bodies when it's so tight in the box.
"Raheem's feet were so soft and his finish was great, as was the one which was disallowed for offside just after.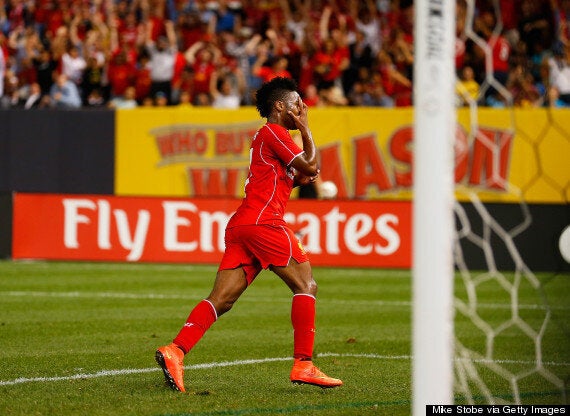 Sterling celebrates his goal against City in pre-season
"The great thing with watching him now is that he gets you off your seat. When he gets the ball you think 'something could happen here'."
In 2010, Steven Gerrard suggested the Reds' new signing Joe Cole was better than Messi.
"Messi can do some amazing things, but anything he can do Joe can do as well, if not better," he said in Match of the Day magazine. "He used to shock us in training by doing footy tricks with a golf ball that most players can't even do with a football.
"I really fancy Joe for the [player of the year] award this season."
Cole was sent off on his Premier League debut and scored just three times in his debut season at Anfield.