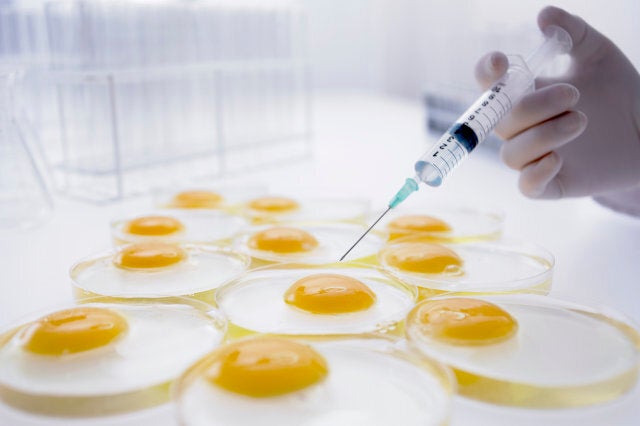 A woman has finally realised her dreams of becoming a mum after six miscarriages - thanks to pioneering treatment using egg yolks.
Lorraine Donakey, 23, from Liverpool, had pioneering treatment which led to her daughter Lulu-Rose's arrival, weighing 4lb 14oz.
Lorraine said: "Finally having her in my arms is indescribable. When she was born I cried my eyes out.
"Every time I got pregnant I thought it would be different. I spent thousands on baby clothes and equipment for six babies that were never born.
"It was to the point where people wouldn't dare tell me they were pregnant because they didn't want to upset me. I didn't find out about my brother's baby until it was four months old.
"Even with the treatment I barely believed that my baby would make it, it was always if she made it.
"Now I've got Lulu-Rose I feel so lucky. She's already spoiled rotten."
Lorraine suffered her first miscarriage when she was just 17 and studying for her A levels, discovering just hours before her exams that she had lost the baby.
She went on to have five more in as many years.
Then she heard about new treatment available privately through Rafet Gazvani, a fertility specialist at Liverpool Women's Hospital.
After a womb biopsy, Lorraine was told the reason she kept miscarrying was because of 'killer cells' that kept attacking the embryo.
She was treated using intralipid liquid, a mix of egg yolks and saline solution, which suppresses the killer cells and allows the baby to grow.
Lorraine said: "We had to pay to have the treatment privately. Luckily, my mum was able to help out and she put the costs onto her credit cards.
"I didn't exercise and I took vitamins every day - I would line them up in the morning."
The treatment was successful and Lulu-Rose was born at a healthy weight on January 17 this year.
Lorraine is already looking to the future and a little brother and sister for her new baby.
She said: "Having six miscarriages definitely takes its toll, on my body and my mind.
"But I know I want more than one baby and now I know the treatment works.
"I want other women to know that this treatment is available, maybe it can work for them too."