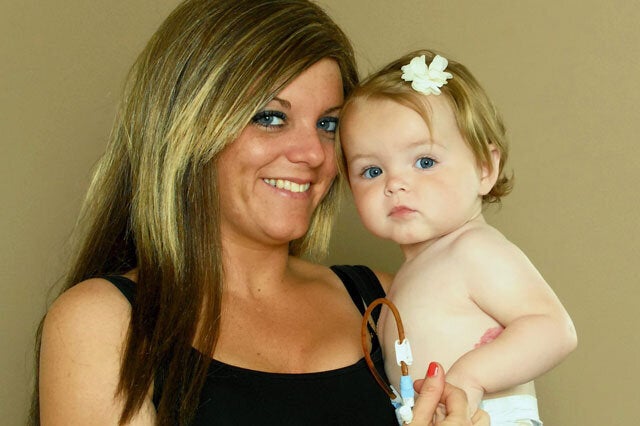 A baby is being kept alive by a feeding tube inserted into her heart – because she will never be able to eat or drink.
Macie McCrorie, 14 months, suffers from a rare intestinal disease that means she can't digest anything and even swallowing her own saliva can make her violently ill.
Now doctors are using a pioneering treatment to get vital nutrients, calories and fluids into Macie's body.
For 18 hours every day, a feeding line is directly linked to her heart to ensure Macie gets what she needs to survive.
Macie was diagnosed with intestinal pseudo-obstruction, meaning muscles and nerves in her intestines don't work properly, at eight weeks old.
She was taken to Great Ormond Street Hospital for tests that are performed so rarely that only two consultants in Europe could interpret the results and diagnose her illness.
About one in 25,000 people suffers from the condition but most can eat and drink small amounts.
Doctors feared the illness was so aggressive it would affect Macie's growth but she is crawling and has taken her first steps.
Her mum, Cheryl Robson, from Prudhoe, Northumberland, told her local paper: "She has been through so much but she's a little monkey who gets into everything.
"I don't hide food from Macie – she sits at the table when we eat and I want her to know it's a normal thing to do. She'll cry when I'm having a cup of tea but, generally, she's a happy baby."
She added: "It will be like this for her whole life unless a cure is found.
"She can never eat or drink anything, which is hard because she's got to the age now where she wants to try everything.
"And she can't run around and play like any other little girl. But she doesn't let anything faze her. She's just so happy all the time; she just smiles at everything.
"The doctors warned us that she might never crawl and she's almost walking now. I'm so proud of how brave she is and how far she has come."
They have already raised over £3,500 through a charity night and have many future activities planned.
The money raised will go to improving facilities at the Great North Children's Hospital at Newcastle's Royal Victoria Infirmary, the paediatric gastroenterology team at RVI and towards further research into the condition.