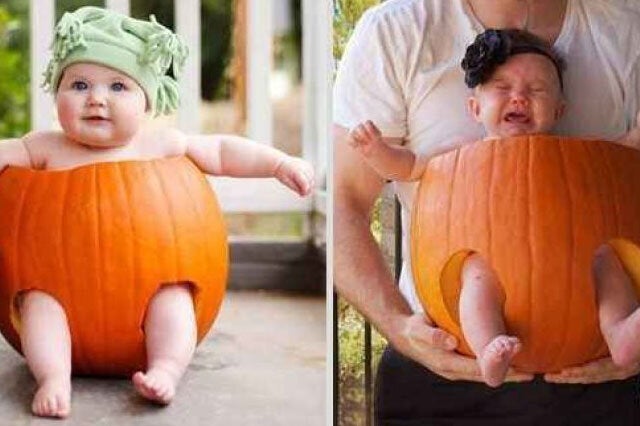 The art of a good baby photo is surprisingly difficult to master.
Babies are beautiful, so it stands to reason that taking a cute photo of a baby is child's play, right?
Well no, actually, it is anything but easy - as babies very rarely do what you expect.
As soon as you have a camera pointed in their direction a baby is liable to start to cry, pull a grimace so extreme that they develop an impressive 12 double chins, or worse - throw up all over an unexpecting friend's shoulder.
Photo sharing site Pinterest is a source of many great pictures of babies looking their sweetest. However, some enterprising parents have decided that they don't want to share professional photos of any old baby - oh no, they want their own 'little darlings' to recreate the famous poses they've seen online.
From placing their baby in a pumpkin, to decorating them with Christmas lights, these parents will go to great lengths to create their own version of well-known baby photos.
The only problem is, often the photos don't turn out anything like the plan - but we have to say the results are still brilliant.
Have a look through the pictures below to see why professional baby photographers have no need to worry that they'll be out of a job any time soon.
Loved these? Why don't you also take a peek at...