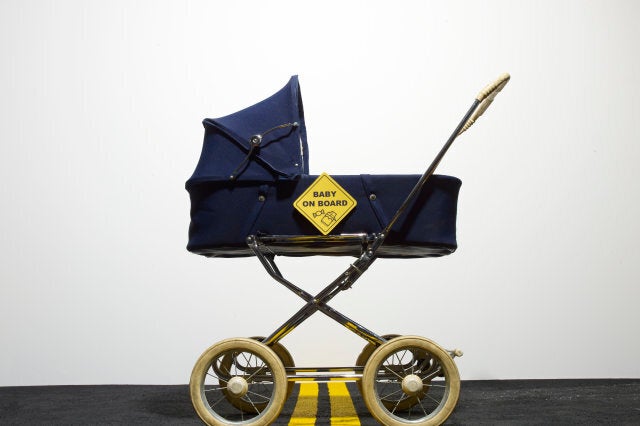 A heroic gran saved her baby grandson's life after a car ploughed into them.
Maureen Marshall, 65, was with her 10-month-old grandson in his pushchair when the car careered on to the pavement and smashed into the front of her daughter Amy's shop.
The grandmother took the force of the impact, protecting the baby, but breaking two of her legs. Maureen and the boy were trapped under the car until staff from the shop next door came to the rescue.
The baby's mum Amy, who runs Occasions card shop in Blackley, Manchester, was inside the shop with her three-year-old daughter, who was also injured, when the smash happened.
Local shop owner Marek Swistak, 47, and his 17-year-old son Daniel heard a huge bang and rushed outside.
They managed to pull the car off Maureen and the baby who was treated in the nearby pharmacy until paramedics arrived.
Marek said he was stacking shelves when he heard the smash next door.
"My first reaction was to help. She was in agony and her legs were trapped and seemed to be broken. "She sheltered the baby so the little one did not get hurt.
"We opened the door and pulled the car off the woman. She was crying out in pain but the baby seemed ok.
"The mum was frantic. Once they were out the baby was given to the mum and taken to the pharmacy to be looked at. The ambulance arrived shortly afterwards."
Son Daniel added: "The woman seemed in a lot of pain. The pushchair was trapped under the car."
Maureen and the two children were taken to Manchester Royal Infirmary.
The children's injuries are not life-threatening and Maureen suffered two broken legs.
The woman driving the car, who is also understood to be elderly, was treated by paramedics at the scene.
Police investigations are continuing.