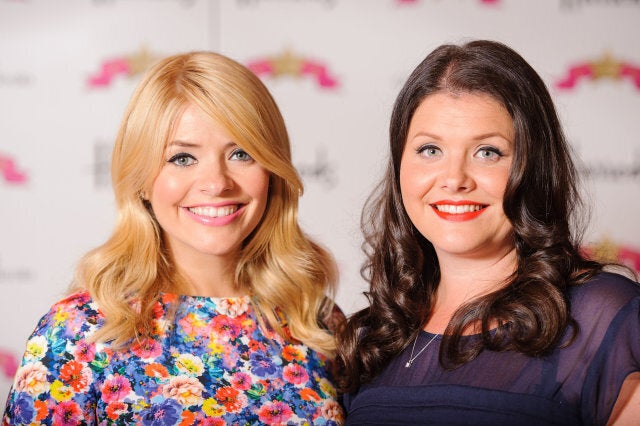 When you meet siblings you can tell instantly whether the spark and closeness is there. With Holly Willoughby and her big sister Kelly, it is with bells on - they finish each other's sentences but aren't afraid to contradict each other.
The sisters have also got each other's backs. Big time.
When I ask if either of them would like more children (Holly is mum to Harry, four, and two-year-old Belle, and Kelly has a daughter, Lola, 17 months), Kelly jumps in to say she would love another, taking the attention from her 'lil sis. Holly is much more reversed, muttering about 'if we're lucky enough' and it 'being a question of time'.
The next day, Holly announces her 'surprise' third pregnancy.
It's a good job Holly and Kelly don't drive each other bonkers, given they now work together as well as live around the corner from each other. The third instalment of the children's book series co-written by the sisters, School for Stars: Third Term at L'Etoile, is out now.
For the uninitiated, the series follows two sisters and their friends as they navigate the highs and lows of school life - stage school, at that.
While Kelly's the writer of the two, the books are very much a team effort from start to finish, and are created at Holly's house. "I'm around there all the time anyway so we might as well work!" laughs Kelly.
"Ultimately it's a story of friendship at its heart," explains Holly. "It's set in stage school where two sisters and their mates have adventures and loads of fun. This book is structured around the summer school term so there's the usual events children can relate to – exam week, wrapping up the year and charity events."
And the twist?
"This term the mean girl who previously left the school is back - and she's got a mate!"
"When we're working together we sit together - usually at Holly's house - and talk about ideas and themes," adds Kelly. "I'll go away and write some bits and then we come back, discuss, edit and move on."
Working together seems to come naturally, but the girls are clearly very different people.
"We've always been close and stuck together," says Holly, the younger sister (although they are like twins, hair colour aside).
i
Growing up it was the same – I wasn't very good with school dinners, I hated them, so Kelly would take my plate so I didn't get into trouble. Kelly was also head girl so I wanted to keep in with her!
i
"Our upbringing means we have the same morals and values but character wise we're so different!" adds Kelly. "I'm very tidy..."
"...and I'm creative!" Holly chimes in. I was wondering what her comeback would be.
What about rivalry between the two?
"There really isn't any – and wasn't any when we were younger either," says Kelly. "It's not like I'm sitting there looking at Holly on the TV thinking 'that could be me' because I went down a different route and am a different person. When I was younger I wanted to write and dreamed about writing a children's book. Standing in front of millions of people on the TV on a Saturday night is not something I could do. I would start crying before I'd have to even do anything!"
"When I was a child 'the TV' wasn't really a job – it didn't really work like that," says Holly. "I didn't know what I wanted to do. Kelly was academic, wanted to write and I truly believed that would happen for her."
While Kelly was academic and excelled at school, Holly's experience was slightly different. She's dyslexic and wasn't diagnosed until just before her GCSEs.
"It seems very late, but it wasn't actually late for the time. It sounds strange to use the word, but when I was 'diagnosed' I was given extra time in my exams. I appreciated it, but weirdly you can have as much time as you like, you're still going to spell things wrong and spend time looking at things a million times.
"I can remember phone numbers but the numbers will be around the wrong way. That's how I am with spelling too - the letters will be there but jumbled. People ask how do I read autocues, but reading for me is OK, plus I do it so much with my job that it comes more naturally."
So how was the experience of writing School for Stars?
"It was absolutely fine – and a very different process to suddenly having to write something down quickly. If you asked me to write someone's birthday card I would start doing it and say 'how do you spell so and so', but when I'm writing something creative I'm fine, and can take my time.
i
Being dyslexic doesn't stop your creativity.
i
Back to books, we talk about the sisters' favourite reads when they were young, and their children's go-to books.
Puddle Lane and the Tiger Who Came To Tea for Holly, and anything by Enid Blyton for Kelly.
"Harry and Belle both love The Gruffalo," says Holly. "Actually, pretty much anything by Julia Donaldson."
"Lola is only one and half but loves to sit and lift the flaps and play with books," adds Kelly. "And all the Usborne books with fun additions to hold her attention."
As the sisters giggle away together, my time with them is up. Do, I wonder, the next generation of Willoughbys get on with each other quite as well?
"Harry and Lola get on particularly well," says Holly. "They hang out all the time and Harry loves to look after Lola – much more than he ever did with Belle. I think because there's more of an age gap he sees her as a really young baby. Belle's at the stage where she lines up all her dolls neatly and Lola comes along and knocks them all down making a mess!"
Much like Auntie Holly then.
School for Stars: Third Term at L'Etoile by Holly and Kelly Willoughby is published on 27th March by Orion Children's Books, £4.99.