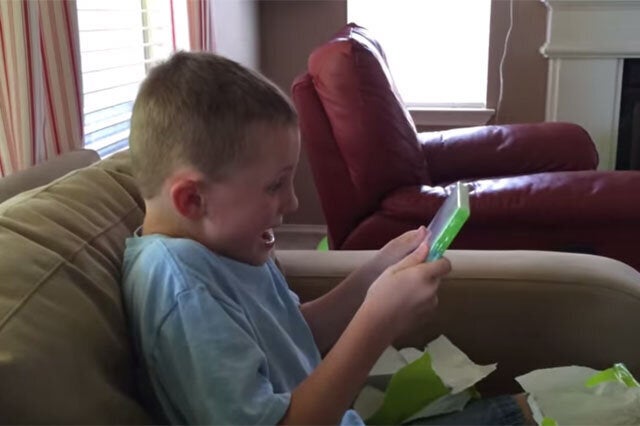 Do you have a child obsessed with Minecraft? If so, you'll understand this little boy's dramatic reaction when his parents give him an Xbox and his own copy of the game for his birthday.
The child's mum explains in comments beneath the video, posted to Youtube, that her son Caleb became hooked on the strategy building game ever since playing the 'pocket' mobile phone edition.
For months he has been obsessed with getting the full version. Going to the homes of friends with the game and playing it there only made his craving worse, his mother said.
"He's asked for this for his birthday in June since at least Christmas time," she recalls. "Week after week we would hear the request."
Finally, after putting up with months of wheedling and moping, Caleb's parents bought a copy of Minecraft and an Xbox to play it on and wrapped it up ready for their son's eighth birthday.
They were expecting a big reaction - and that's definitely what they got.
Story continues after the video
The little boy goes nuts, to say the least. After unwrapping only an inch or two of paper, he freezes as though he can't quite believe what's happening.
"Are you gonna unwrap it?" prompts his mum, clearly relishing her son's (over)excitement. Caleb then tears off the paper with a triumphant howl and stares at the game, hyperventilating. Then giggling. Then crying. Like we said, he REALLY wanted the game.
"I'm so happy!" he cries, totally overwhelmed with emotion. "I've waited so long for this!"
Well, six months can seem like a lifetime when you're seven.