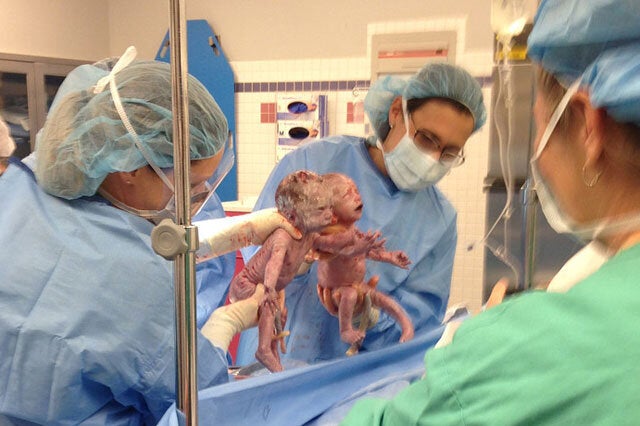 Identical Jenna and Jillian Thistlethwaite were born on May 9 sharing an amniotic sac and placenta.
After spending nearly a month in the Akron Children's Hospital's neonatal intensive care unit, the twins went home to Orrville in north east Ohio on Saturday.
The twins' rare birth condition is called monoamnioitic, or 'mono mono'. Doctors say they occur in about one of every 10,000 pregnancies.
Mum Sarah, 32, gave birth to the girls by Caesarean section at 33 weeks and two days. Jenna weighed 4lb 2 oz and Jillian was 3lb 13 oz.
Both girls are taking full bottles and have gained weight, each now at 5lbs or more.
Proud dad Bill said he was excited to have the girls at home with his wife and their 15-month-old son, Jaxon.
Referring to the famous photo of the girls holding hands, Bill said: "I already feel like they're going to be best friends. They'll probably look at it and say, 'That makes sense because that's how we are'."
Sarah said: "They're already best friends. I can't believe they were holding hands. That's amazing."