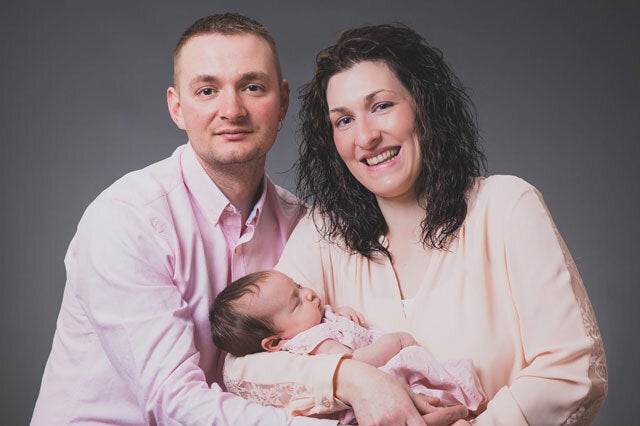 A woman whose immune system refused to allow her to get pregnant has become a mum after nine long years of trying – after being treated with egg yolks!
Lucy Phasey, 27, couldn't conceive because her 'natural killer cells' treated embryos as foreign bodies and attacked them.
After two years of trying to conceive naturally, Lucy and her husband Liam, also 27, turned to IVF.
Four attempts were made to implant embryos, but all ended with heartbreak - including a miscarriage.
Baffled doctors couldn't diagnose the problem and Lucy was so distraught she told her husband Liam, 27, to move on and find another wife who could give him a child.
But seven years after being told they might never become parents, Lucy and Liam, also 27, welcomed Evie Ray into the world in February.
Their happiness came after the pair stumbled across CARE, an infertility treatment centre in Manchester, where a doctor told them Lucy's immune system was too strong, killing off embryos because it thought they were a foreign body.
She was given intravenous intralipid therapy, a treatment administered through an IV drip and made from soya bean oil, egg yolk, glycerin and water.
The therapy stimulates the immune system to suppress so-called 'natural killer cells' and allow an embryo to implant in the womb.
After a few months, Lucy became pregnant when an embryo was implanted in her womb in April 2013.
Lucy said: "I did feel a bit weird knowing what was being put inside of me but after years of non-natural methods I was definitely on board with the more natural way.
"I just kept taking tests, we took the positive one at 5.05am before Liam went to work and we were just ecstatic, I woke all my family up to tell them!
"It was such a contrast to before, I had tried to tell Liam to go off and have a baby with someone else because I felt I couldn't make him happy, and now we were looking at our own baby, after nine years.
"He didn't believe he was going to be a daddy until she was placed in his arms really, he kept avoiding the subject until he knew she was real, it was an incredible moment."
The couple have yet to decide if they will try for more children, but are enjoying the realisation of their dream with the birth of Evie Ray.
Lucy said: "We wouldn't want to experience the heartache again, but we have stored embryos for three years so perhaps it will be an option.
"But we'll never be disappointed because Evie is here and we have what we wanted."
She added: "Evie is 14 weeks old now and I'm still in a bubble, I have to keep pinching myself and think 'is this really me, am I a mum?'"