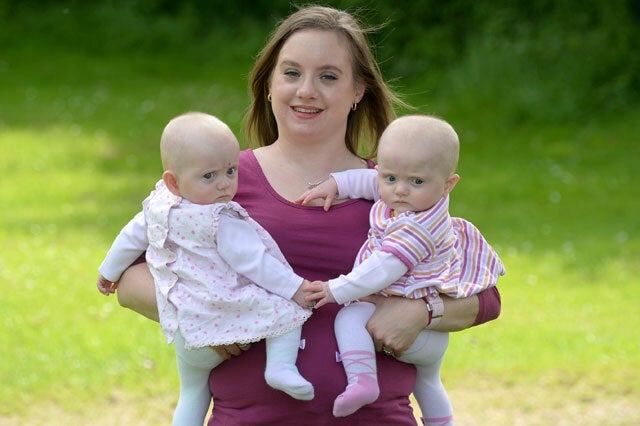 Sisters Jessica and Clara Gwynne are four-billion-to-one babies after becoming the fourth generation of twins in one family.
They follow in the footsteps of their mum Mel and their grandfather and great-grandmother.
Mel, 36, discovered she was carrying twins at her 12-week scan after spotting the image of a second head on a monitor.
She said: "It was a bit of a shock. Although deep down I think I've always known that me or my twin sister Sherrill would have twins.
"They did the scan and I could see on the screen they were looking at the one baby and I saw something else which in the corner and I thought well there's nothing else that could be round like that apart from another head.
"And I thought 'no, don't be silly and then she moved it over and she went 'and there's twin two'."
The girls – who are featured in Channel 4's One Born Every Minute – were born five weeks premature and spent their first few weeks in a special care baby unit. They're now seven months old.
The pattern for twins in the family began with Jessica and Clara's great-grandmother, Joyce Garrad, who had a twin named Margaret.
Joyce went on to give birth to Kevin and Keith, 60, and Kevin and his wife had Mel and Sherrill.
Mel, from Bristol, hopes her girls will develop the same close bond she shares with her identical sister – but she's determined to treat them as individuals.
She said: "My Nan always used to put me and my sister in the same thing and we hated it. We hated being the same because we were separate people."
In Britain, there is a 112-to-one chance of a pregnancy resulting in non-identical twins.
US health journal, Forensic Science International, estimate the odds of four generations of twins in one family are one in four billion.