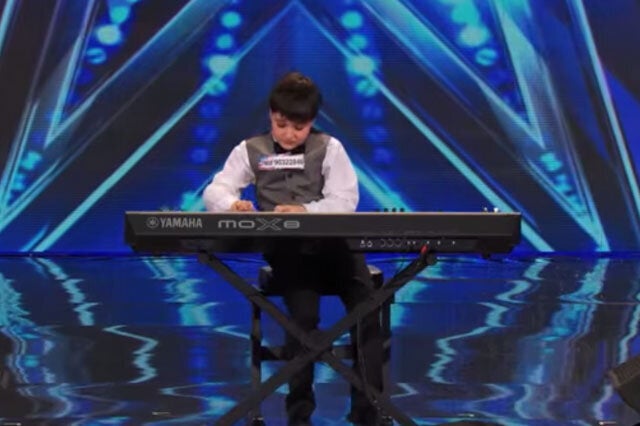 This nine-year-old's piano lessons have certainly paid off, as his fast finger-work earned him the coveted opening slot on America's Got Talent.
Adrian Romoff isn't even in double figures yet, but when he walked on stage at the talent show auditions he managed to instantly impress the judges - even before he played a single note.
When Heidi Klum learnt that Adrian had skipped five school years and was in the eighth grade with 13 and 14-year-olds, she asked:
"Well, according to reality, yes," Adrian replied, matter-of-factly.
Then, removing his glasses, the boy approached his electric keyboard and launched into a rocked-up synthesized version of the classical piece 'Flight of the Bumblebee'.
His performance earned him a standing ovation from Heidi and fellow judge Howie Mandel. However, one judge was not impressed.
"I am utterly and thoroughly confused," Howard Stern said. "I wasn't really sure what was going on up there. How much of that was you? How much of that was track? I was totally confused."
Feisty Adrian, from Georgia, US, wasn't shaken by the critical comment. To prove his credentials he went on to play a second number: Chopin's Grande valse brillante in E-flat major, Op. 18.
This time he succeeded in winning over all four judges and Mel B told him:
"Your act is not just about playing the piano. It's about talking to the audience, because man, you had me at 'Hello,' basically."
Speaking about performing, Adrian said: "Nothing can be completely perfect, because you're not a robot. We don't need another machine in our world, we already have a bunch of them. We need more emotions.
"When I play piano, I express my feelings and I express them with the audience. And see, that's why there will never be such thing as a piano playing robot."