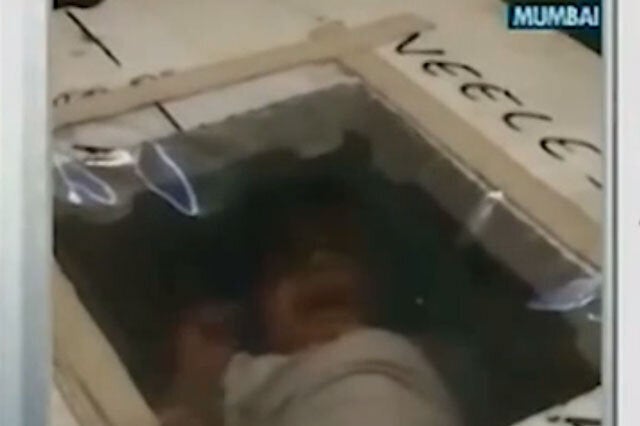 An Indian couple who could not afford hospital care for their premature baby kept him alive in a homemade incubator made out of a polystyrene ice box.
Aruna Chauhan, 34, gave birth to Mithilesh a month before he was due last October. The little boy, who weighed just 3lb 3oz, was quickly rushed to the Intensive Care Unit at Mumbai's Alliance Hospital.
However, the cost of ICU care was 8,000 rupees (£80) per day - nearly a whole month's wages for the couple. Family and friends chipped in to help, but after 20 days, they had no choice but to withdraw Mithilesh from the hospital.
i
With the waiting list for incubators at the city's free hospitals hopelessly long, the situation seemed dire - but a sympathetic doctor had an idea for a last-ditch attempt to treat their baby.
i
He suggested that Ramesh, the baby's father, rig up an improvised incubator at home by buying a styrofoam ice box from the market and fitting it with a 60w light bulb.
"The doctor advised it was better than nothing and might save our baby," Aruna told a local newspaper. "My husband bought the box from a nearby fish market and cut holes in it."
Since then, the couple have kept their baby in the ice box, taking his temperature every two hours. Amazingly, the little boy is now five months old. Yet he remains undersized and has suffered from infections and illness during his time in the ice box.
There is, however, a happy ending to the story. After the story made the local papers, nearby Parel hospital reached out to the Chauhan family and offered to treat baby Mithilesh free of charge. The little boy is still severely underweight, but doctors predict he will be back home and healthy in three weeks.
Dad Ramesh expressed his gratitude for the generous response to his family's plight. "Three years ago we arrived in Mumbai from Gujarat and we were warned this was a tough and heartless city," he told the local press.
"I want to tell those people that Mumbai has adopted my ailing son. Nowhere in the world can one find so much affection."