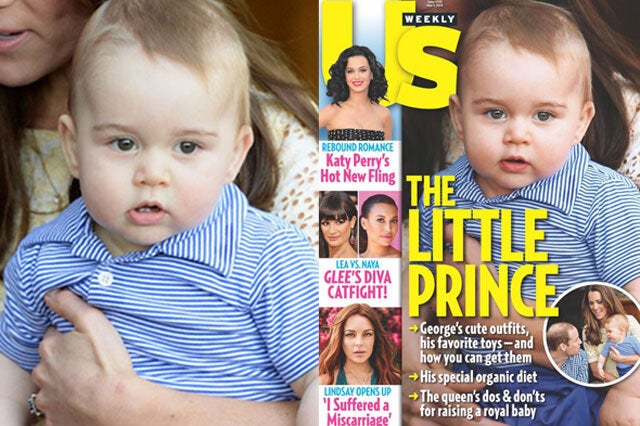 He may only be nine months old, but it appears Prince George has already fallen victim to the tabloid craze for airbrushing.
The heir to the throne was spotted looking distinctly rosy on the cover of US gossip rag Us Weekly as his mum, the Duchess of Cambridge, held him on their family visit to a bilby enclosure in Sydney as part of their royal tour of New Zealand and Australia.
Suspiciously rosy, in fact.
It didn't take long for observers to clock that the cover picture had been digitally enhanced, with George's skin coloured, eyes turned from brown to green, and hair bumped up several shades from mousy brown to vivid strawberry blond.
The pics were taken as George visited Taronga Zoo alongside the Duke and Duchess of Cambridge on Sunday, getting up close to a bilby named after the young royal.
The little lad seemed enthralled as he reached out towards the furry creatures, giving photographers their first opportunity to catch a glimpse of the royal baby flashing a smile since the family's arrival last week.
Unfortunately, it appears they may have been little over-excited by the scoop, letting themselves get carried away in post-production by dialling up the colour on the little prince.
Elliot Wagland, picture editor at Parentdish and Huffington Post UK, gave us his verdict on the cover photo. "The color balance of the picture has definitely been adjusted," he said. "And Prince George's eyes have been enhanced to make them brighter.
"A certain amount of subtle photoshopping takes place on any cover but unfortunately for this magazine the contrast between the cover and the original image is just too noticeable."
At least we can be thankful that George was not a victim of the extreme Photoshop treatment which has seen models randomly lose arm or a leg thanks to careless digital enhancement.
Personally, we think he looks adorable either way, as these photos from the royal tour show...