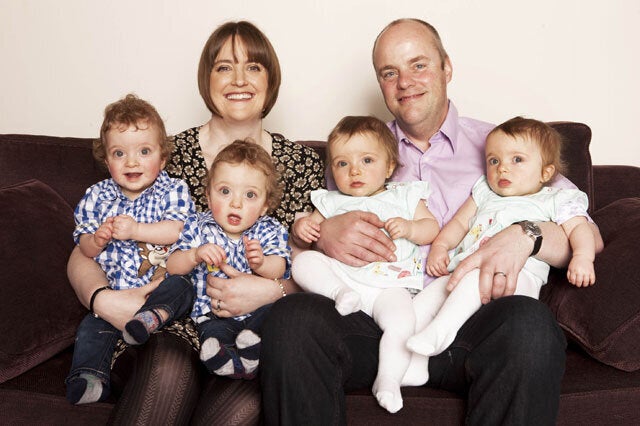 Being a first time parent is an exhausting, exhilarating and eye-opening experience for anyone. But for Sharon Turner, all of these emotions are multiplied by four - she and her husband are parents to quads!
Even more remarkably, the quads are made up of two sets of identical twins: boys James and Joshua are identical, as are their sisters, Lauren and Emily. Only three other such sets of siblings are recorded in the world, at odds of 70 million to one.
For Sharon, 38, and her husband, 44-year-old Julian, the babies represent the end of a long and painful journey to parenthood.
After struggling to conceive naturally, the Turners spent tens of thousands of pounds on IVF. It wasn't until their fourth round of fertility treatment, when the pair had begun to abandon hope, that Sharon was told the IVF had been successful - and that she was expecting not one baby, but four!
As is the case with many multiple births, the quads were born prematurely. When they arrived, 11 weeks early, via Caesarean section, they weighed just two-and-a-half pounds each and spent the first weeks of their lives in a special baby care unit.
i
"Up until the moment they were born, I didn't think it would happen for us," Julian remembers. "We've been through so many rounds of IVF it's all been a bit of a nightmare."
i
Although they had spent years hoping and praying that they would finally have children, Sharon doesn't deny that the responsibilities of caring for four babies under the age of one can get overwhelming.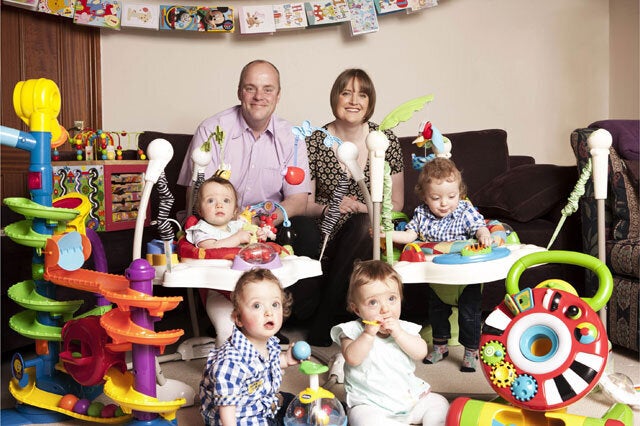 Four infants means 24 feeds per day for Sharon and Julian, five loads of washing per day and endless nappy changes. One of the most stressful moments, she recalls, was when all four fell ill at Christmas.
"When one gets ill, they're all going to get ill. It's going to be like this forever," Sharon says. "They're probably all going to get chicken pox at the same time."
And that's without considering the expense. The Turners had to buy a new car to accommodate their impressive brood, and even day-to-day expenses like nappies, clothes and food are a massive strain on the family budget.
An ITV camera crew has been following the family to get an up-close look at day-to-day life in the hectic Turner household.
Quads - Our First Year airs tonight at 8pm.