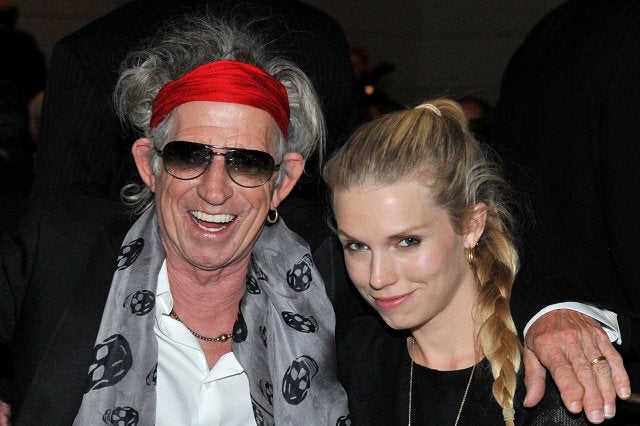 Rolling Stones' guitarist Keith Richards is writing a picture book for children, inspired by his relationship with the grandfather who taught him to play music.
The book, Gus & Me: The Story of My Granddad and My First Guitar, will feature pen and ink illustrations by Keith's daughter Theodora Richards, who was named after Keith's maternal grandfather Theodore Augustus Dupree,
Keith credits his jazz musician grandfather Theodore, who was also known as Gus, as the person who first encouraged him to take up guitar. Their shared love of music helped the pair develop a special bond.
"I have just become a grandfather for the fifth time, so I know what I'm talking about," said Keith.
"The bond, the special bond, between kids and grandparents is unique and should be treasured. This is a story of one of those magical moments. May I be as great a grandfather as Gus was to me."
Keith has three grandchildren: Ella, Orson and Ida are his son Marlon's children and Ava and Otto are his daughter Angela's.
Marlon, 44, and Angela (whose birth name was Dandelion), 41, are Keith's children from his relationship with model and actress Anita Pallenberg. The couple had a third son called Tara, who died of Sudden Infant Death Syndrome when he was just three months old.
Keith went on to marry model and actress Patti Hansen in 1983, and the couple had two daughters, Theodora, 28, and Alexandra, 27, who have both followed in their mother's footsteps and pursued modelling careers.
Keith's picture book will offer readers an insight into his formative years.
"Gus & Me invites readers to be in the room at the electrifying moment that Keith holds a guitar in his hands for the first time," said Megan Tingley, publisher of Little, Brown Books for Young Readers.
While many parents will no doubt be interested to hear about this iconic moment of music history, it's questionable how much this anecdote from a 70-year-old rocker will mean to the toddlers the book is aimed at.
The ebook edition and hardcover with bonus audio CD of Gus & Me: The Story of My Granddad and My First Guitar will be released on September 9.