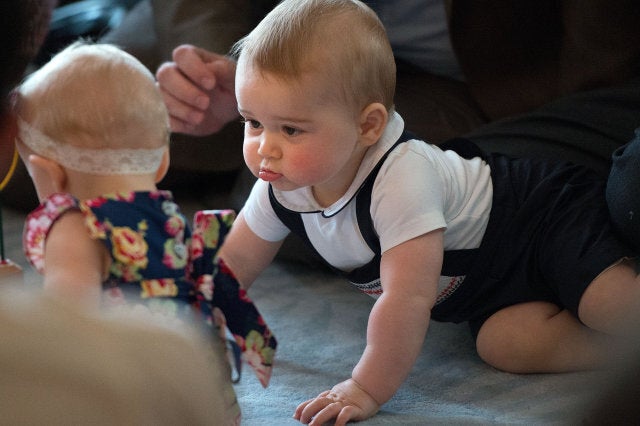 Prince George's stylish outfits have sparked a rush amongst mums to copy the royal baby's look for their little ones.
Retailers say they have noticed 'the George effect', with items the eight-month-old has worn selling out in hours to dedicated followers of baby fashion.
Prince George's Rachel Riley smocked romper has sold out in almost all smaller sizes since his appearance wearing them on Wednesday during his visit to a playgroup in New Zealand.
The £75 dungarees, worn to the playdate organised by The Royal New Zealand Plunket Society at Government House in Wellington, have a sailboat smocked design on the front panel.
They have sold out in the six month and 12 month sizes, but mothers prepared to wait for their babies to grow into the outfit can still buy it in sizes 18 months and two years.
And following the family's portrait for Mother's Day this year, when the prince sported a baby blue number with 'George' emblazoned on his chest, personalised baby clothes retailer My1stYears.com sold 1200 jumpers in just four hours.
The jumper was given to him by his grandfather, Prince Charles, who had it created for his grandson in machine-made cashmere, favoured by Johnstons of Elgin, a family-run wool mill that holds the Royal Warrant for Prince Charles.
Would you buy a cashmere jumper for a baby or spend £75 on dungarees for an eight-month-old?