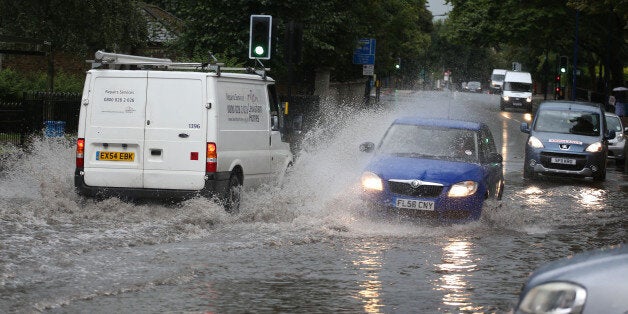 Pack away your barbecues and get out you winter wooly, the British summer has come to an abrupt end as "Biblical" downpours put the country on flood alert tonight.
London Fire Brigade (LFB) said it had been called out to around 20 separate flooding-related incidents in a little over an hour.
It came after the Met Office warned that up to a third of a month's rain could fall in some parts of the country in just a few hours.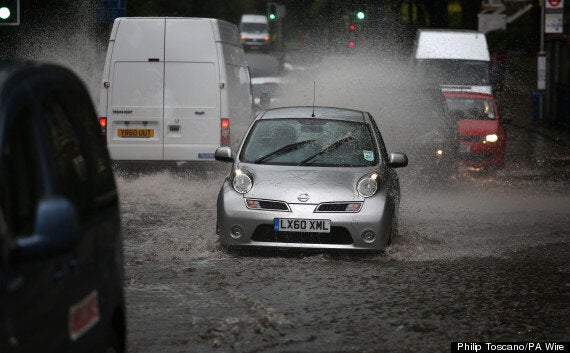 Downpours in south London were described as "biblical"
And more gloomy weather was predicted for next week with temperatures expected to plunge well below the average for late summer.
Downpours in south London were described by London Fire Brigade (LFB) as "biblical".
It said on its Twitter feed: "We're attending a number of flooding incidents in East Greenwich and Sydenham due to the biblical downpours in south London."
Most of the incidents were understood to have involved water getting into the basements of properties.
LFB said one person was rescued from a flooded basement flat in Forest Hill, south London, after water "entered via street drains due to heavy rain".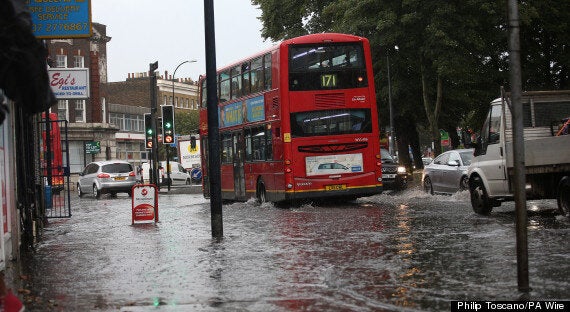 Traffic drives through a flooded road in New Cross
Pictures posted on Twitter showed cars driving through deep water in Lewisham, south-east London.
Yellow "be aware" warnings for rain were issued for many regions covering most of today, with the Met Office warning the worst-hit parts could see more than 30mm (1.2in) of rain in two or three hours.
The average rainfall for the UK for the whole of August is 89mm (3.5in). The highest total recorded so far is 45mm (1.8in), which fell over the 12 hours from 3am in Swyddffynnon, Wales.
Tonight the Environment Agency had 17 flood alerts in place.
Met Office spokeswoman Nicola Maxey said the conditions are "fairly typical" for late summer and the downpours are expected to have passed by tonight.
"It is just some unstable air that is moving through, creating this rain. It will clear through by the end of the day."
An Environment Agency spokeswoman said: "High spring tides continue today, bringing a risk of wave overtopping and spray in places, particularly when strong gusts of wind coincide with the time of high tides.
"Over the last week Environment Agency teams have been out on the ground, ensuring coastal flood defences are ready, rivers can flow freely and clearing trash screens.
"Since August 11 we've received reports of 15 properties flooded from coastal flooding. We will continue to support local councils as they respond to surfacewater flooding."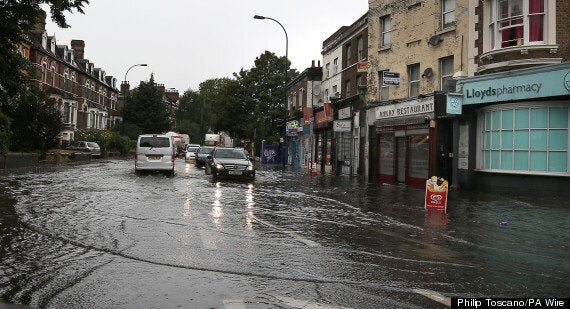 A month's rain could fall in just a few hours today
The AA said it had so far been called out to one incident of a car stuck in water, with the number expected to rise as the evening goes on.
Meanwhile Met Office spokesman Dan Williams said a low pressure system from Iceland will bring "quite brisk" conditions to the UK on Monday.
He said the mercury could plunge to the "low to mid single figures" overnight in Scotland, while it will feel "noticeably cooler" everywhere.
Daytime temperatures are not expected to climb above the mid-teens. The average for August is 19C (66.2F).
It comes after the tail-end of Hurricane Bertha caused the wettest 24-hour period of the year last weekend.
The downpours caused problems for commuters in south London tonight.
Flooding in the Kidbrooke area meant country-bound trains run by Southeastern were forced to run at reduced speed.
Ruari Lea, who works at the Hill Station cafe in south-east London, told BBC Radio 5 Live: "Biblical is definitely the world to describe it.
"We had a full house and then all of a sudden we had Niagara Falls enter the building.
"We were covered in about three or four inches of water everywhere while people were still eating - it was complete havoc."
Popular in the Community