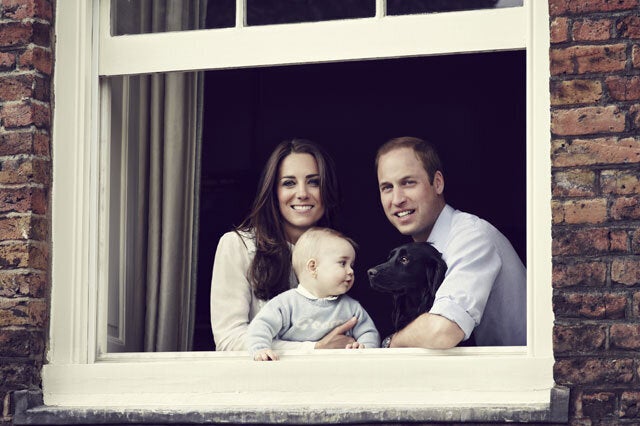 Pictures of Prince George are few and far between. Since his arrival on July 22 we've only been treated to two official photos - and in both there's been a furry friend stealing the thunder of the future king and his chubby cheeks.
Meet Lupo, Kate and Wills' beloved cocker spaniel, who is getting as much love and attention as the future King himself (although George wins on knitwear points with that natty jumper).
In the new official Cambridge portrait, George and Lupo get equal camera time. While Kate holds onto George with a protective arm around his waist, her pose is mirrored by proud dad and dog fan Prince William.
Judging by the look between dog and baby, the pair are cooking up mischief. A dirty nappy to ruin Kate's frock and a slobbery lick for Wills perhaps?
The intimate portrait of Kate and William isn't the first time Lupo has been given as much attention as George. When the couple released their highly anticipated first official family portrait with George in August, Lupo had pride of place on Prince William's lap.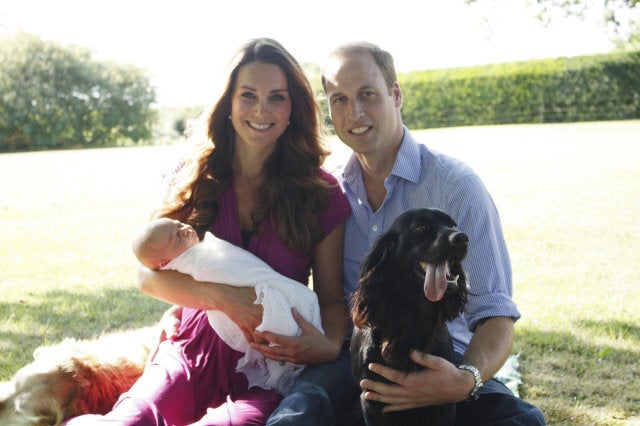 Granted, in both photos the four-legged family member wasn't having any of the 'look at the camera' rubbish, but he certainly was given equal camera time to George - and in the recent shot he is getting a right Royal cuddle from Wills.
What's next, matching jumpers for the two youngsters in the couple's life?
This month Kate, Wills and baby George are off to Australia and New Zealand, where we will be treated to more pictures of the young family.
Luckily for George, Lupo's staying at home...
The young royals appear to be following a rich royal family tradition of being photographed with their pampered pets - just not on knee height with the future King.