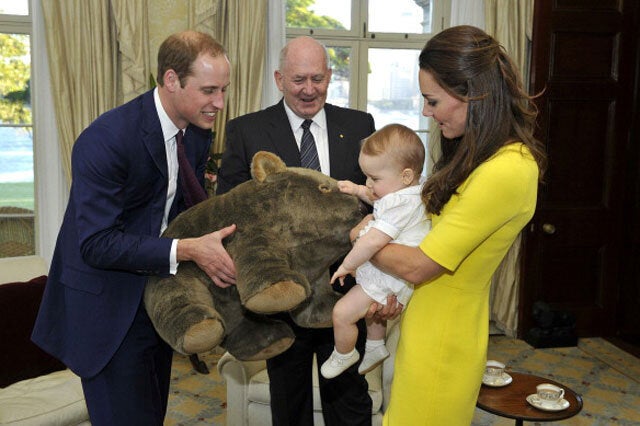 Prince George has had gifts galore showered on him since he arrived Down Under – but surely this giant wombat tops the lot!
It certainly looked that way as gorgeous George broke into a (subtle) smile as he was presented with the huge cuddly toy by Australia's Governor-General Peter Cosgrove at Admiralty House on Wednesday.
The eight-month-old Prince used his tiny fist to clutch at the furry cuddly and smiled inquisitively as dad Prince William held the toy up for his son to inspect.
The plush toy of the native Australian animal is one of many gifts the Duke and Duchess of Cambridge have received on behalf of their son.
Not quite as grand as the wombat was a kangaroo backpack William was seen holding for his son when they briefly stopped over in Sydney on their way to New Zealand.
Stockists of the bag said it sold out within hours as a result of Prince William seen carrying one.