The Ku Klux Klan is reportedly raising money for a police officer who shot and killed unarmed African-American teenager, according to a civil rights organisation in the US.
The Southern Poverty Law Center's Hate Watch blog has reported that the Missouri chapter of the Klan is raising money as a "reward" for the officer for killing Michael Brown, 18.
"We are setting up a reward/fund for the police officer who shot this thug," said an email from the South Carolina-based New Empire Knights, according to the Alabama-based civil rights organisation.
"He is a hero! We need more white cops who are anti-Zog and willing to put Jewish controlled black thugs in their place. Most cops are cowards and do nothing while 90% of interracial crime is black (and non-white) on white."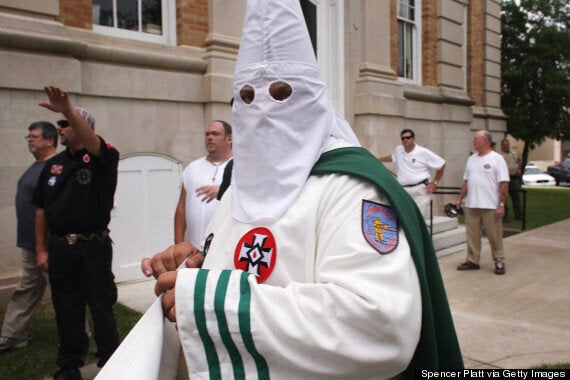 The civil rights group said that the "social turmoil that has erupted around Brown's death has proven too appealing for the Klan."
According to the group, one Klan chapter wrote in a blog: "We know that Michael Brown was nothing more than a punk.
"The media and others are painting him out to be a 'good son' and 'great kid.' The blacks of Missouri are showing their love of him by rioting, attacking and shooting people. Nothing new." Police in riot gear stand guard in Ferguson
Photographs of camouflaged officers training automatic weapons at unarmed civilians have highlighted the increasing militarisation of policing in America.
The Huffington Post US, who had reporters at the scene, has described how mostly peaceful protesters, many of whom were symbolically holding their hands in the air, were met with tear gas and smoke bombs fired so regularly that several reporters on scene said it was hard to breathe.
Police filled the streets of Ferguson, St Louis, with tear gas, rubber bullets, heavily-armed SWAT teams and mine-resistant vehicles to repel protesting crowds Wednesday night.
After four nights of violence, officers made an effort to mingle peacefully with people protesting the weekend shooting death of unarmed teenager Brown by a police officer, as thousands held vigils across the US in honour of the black teenager.