A decision not to offer a life-extending prostate cancer drug to sufferers on the NHS until after they have received chemotherapy is a "kick in the teeth" for patients, a charity has said.
Prostate Cancer UK said that the drug Abiraterone could offer men extra time to spend with loved ones, and a chance to delay the debilitating side effects of chemotherapy.
The charity said that the decision by the National Institute for Health and Care Excellence's (Nice) was "unjust".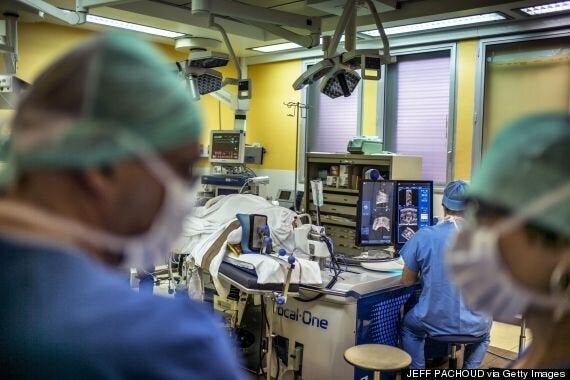 Prostate cancer surgery in Lyon, France
Abiraterone is not a new drug and is already used as a treatment after chemotherapy.
The Institute of Cancer Research (ICR) has also come out against the ruling, claiming there is "clear evidence" that Abiraterone can extend lives and improve quality of life for prostate cancer patients before chemotherapy.
Nice said that the drug, made by drug company Janssen, is not "not cost effective at its current price".
It added that it was unclear whether Abiraterone really improved life expectancy before chemotherapy, due to problems with the research data, which the drug's maker Janssen denies.
The ruling means that Cancer sufferers who wish to use Abiraterone before chemotherapy must apply to the Cancer Drugs Fund. The fund is set aside by the government to support drugs not approved by Nice, meaning that receiving the medication is not guaranteed.
But Prostate Cancer UK insisted that Janssen and Nice must continue negotiations until the "vital" drug is made available to patients.
Owen Sharp, chief executive of the Prostate Cancer UK, said: "It's a fiasco. This decision is a kick in the teeth for men with advanced prostate cancer.
"For many this presented a vital opportunity for extra time with loved ones and a chance to delay chemotherapy and the debilitating side effects which come with it.
"An inflexible Nice process plus the drug company's inability to produce all the requested data has led to this being just the latest in a string of hugely disappointing rulings on prostate cancer drugs. Once again men in England will have to take their chances with the Cancer Drugs Fund.
"The current system is flawed. It is not fit for purpose and it is the very people it is supposed to serve who are bearing the brunt. This decision is unjust and it needs to be overturned so that men in desperate need can receive the most effective drugs, wherever they live.
"We urge Janssen and Nice to get their act together and do whatever is necessary to get Abiraterone pre-chemotherapy across the line without delay."
WHAT IS THE PROSTATE?

The prostate is a small gland in the pelvis found only in men. About the size of a walnut, it is located between the penis and the bladder. It surrounds the urethra, the tube that carries urine from the bladder to the penis.

The main function of the prostate is to help in the production of semen. It produces a thick white fluid that is mixed with the sperm produced by the testicles, to create semen.

Source: NHS
Nice's chief executive Sir Andrew Dillon said: "Nice has already recommended Abiraterone as a treatment after docetaxel containing chemotherapy.
"In this appraisal, we have been considering it for an earlier stage in treatment. Abiraterone is not a new drug, but it is the first treatment of its type to become available prior to chemotherapy.
"We know how important it is for patients to have the option to delay chemotherapy and its associated side effects, so we are disappointed not to be able to recommend abiraterone for use in this way. However, the manufacturer's own economic model demonstrated that the drug does not offer enough benefit to justify its price."
In the last 40 years, prostate cancer cases have tripled, but this is due to better detection methods. 75% of prostate cancer cases tend to be men over the age of 65, but - as with other cancers such as ovarian cancer - when it occurs in younger men, it is thought to be due to faulty genetics.
Popular in the Community