Julian Assange announced in a press conference he would be leaving the Ecuadorian Embassy "soon", after two years avoiding British police.
The Wikileaks founder has had a interesting time in the public eye in that time to say the least.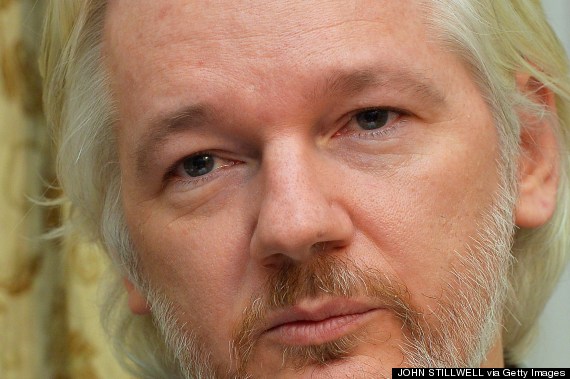 Zzzzz...
Some brand the man a hero, a champion of free speech and a vital force in the fight against censorship.
Others see him as an egoist who lost sight of his original aims long ago. So, which view rules?
First for the positive. The number of people calling him a 'hero' during his conference numbered 10...
Julian Assange the peoples champion.. you hero god bless you..

— silentbob37uk (@silentbob37uk) August 18, 2014
Julian Assange is a hero of our times. Let us hope the Ecuadorians protect him from the grubby hands of the heartless Americans.

— Richard Taylor (@iamRichTaylor) August 18, 2014
Those that said they 'loved' the man numbered a paltry 2...
Not gonna lie, I've always had a soft spot for Julian Assange. I love that whole whistleblower bad boy deal.

— Rosie (@rosesandpuns) August 18, 2014
@wikileaks love Assange.

— Abdul Rahman (@Engr_AR) August 18, 2014
On the negative side, 'hate' featured once (but in block capitals which obviously counts double).
OH GOD I HATE JULIAN ASSANGE SO MUCH

— sarah (@SarahDuggers) August 18, 2014
A smattering of people think he's an 'idiot'...
Why are we even listening to this idiot on now Julian Assange!!

— Roger ⛳ (@ROGE2710) August 18, 2014
Or a liar...
@bodhibrian A liar who claims to be a champion of truth. He fools many vulnerable people. #Assange

— Sandra K Eckersley (@SandraEckersley) August 18, 2014
But the over-riding sentiment? See if you can spot the theme...
I have better things to do with my time, but by all accounts Mr Assange as popular as a bucket of (boring) cold porridge. Oh dear.

— Marc Ashdown (@marcashdown) August 18, 2014
This week's officially boring chart:

Julian Assange;

Scottish Independence (up 2 places);

Ebola (baring a serious death toll).

Cycling.

— Dosh (@Fat_Rich_Happy) August 18, 2014
Julian Assange - almost as boring as Adel Taarabt.

— Paul Thompson (@staineshoops) August 18, 2014
I've always admired the goal, but not necessarily the methods, of wikileaks. But the Assange saga is just getting boring now, to be honest.

— Jade Ward (@bewarenostalgia) August 18, 2014
Julian Assange breakingly boring.

— ShabibiChic (@ShabibiChic) August 18, 2014
@afneil For no particular reason except it's less boring than Julian Assange here's my Molly (the furry one) pic.twitter.com/cwSaQDEhLH

— Keith Steele (@KeithRSteele) August 18, 2014
#Assange should be thrown in jail for the most boring news conference i have ever seen #tosser

— Andy Walker (@andy_walker13) August 18, 2014
Genius move by assange's people starting a rumour he might be leaving today, to get us watching THE MOST BORING PRESS CONFERENCE IN EVER

— Dave (@isntdave) August 18, 2014
@JuliaHB1 julian Assange is the most boring man on earth #wikisnore

— Paul Cleary (@clears45) August 18, 2014
For a very boring word, it's good to see "soon" suddenly parading around with quote marks and an air of mystery. #assange

— Neil McMahon (@NeilMcMahon) August 18, 2014
Most boring press conference in the world with Julian #Assange has driven me back to work. Wonder if Met can recoup £7M cost from him?

— David Gurtler (@GurtlerDavid) August 18, 2014
There is probably a strong argument that right now Julian #Assange is the world's most boring man

— Antonio Cimmino (@cimmino_a) August 18, 2014
If the Assange press conference gets any more boring and uninformative, I fear for property prices in Knightsbridge.

— Bryan Appleyard (@BryanAppleyard) August 18, 2014
Chuckled. Needed it. RT @fieldproducer: There is probably a strong argument that right now Julian Assange is the world's most boring man.

— Kelsey Proud (@KelseyProud) August 18, 2014
There is probably a strong argument that right now Julian Assange is the world's most boring man.

— Neal Mann (@fieldproducer) August 18, 2014
Bloody hell Assange just announce whether you're releasing a new album or not. This is just boring.

— Ben May (@B3nMay) August 18, 2014
Hmmm! The majority of 'journo' tweets re. Assange appear to be of the 'boring us into a coma' variety. :-D

— Carole (Ducky) (@IrPsych) August 18, 2014
Batshit boring TV

August 18, 2014
Thanks for the life story Julian. Just walk out the door #DraggingItOut #Assange #Boring

— Rob Edmond (@RobEd88) August 18, 2014
Is it just me or is Julian Assange really boring

— MursMums (@mursmums) August 18, 2014
Ugggggh, I forgot how boring Julian Assange is. Maybe I should put this on to put me to sleep.

— Robert DeFino (@RobDeFino) August 18, 2014
If being boring was a crime, then #Assange should be sent to jail without passing Go.

— Krister Renaud (@krenaud) August 18, 2014
Boring as hell. I'll wait for the summary. #Assange

— Matt (@Vanalli) August 18, 2014
Funny how Julian #Assange said he would be brief then goes into a long, rambling, tedious rehash of all the old nonsense, boring everyone.

— Sandra K Eckersley (@SandraEckersley) August 18, 2014
Julian Assange fronts the media to reinforce just how boring he, and everything about him, truly is...

— Mathew Thompson (@MathewJThompson) August 18, 2014
Most boring 'you caught me gov' speech in the world goes to #Assange, now off you pop and face the charges levied against you...

— Siobhan McFadyen (@siobhanyc) August 18, 2014
Julian Assange in the Ecuadorian embassy is the most boring story about being stuck behind walls since Daenarys Targaryen went to Meereen.

— George Osborn (@GeorgeOsborn) August 18, 2014
Jesus Christ this is boring: http://t.co/zW3XZptBMX

August 18, 2014