Julian Assange has said he will leave the Ecuadorian Embassy "soon", after reportedly falling ill in his two years hiding there to avoid arrest and extradition.
Assange was speaking at a press conference this morning after Sky News reported he was considering surrendering to police, meaning he would be extradited to Sweden to face rape charges.
He has claimed the extradition would see him removed to the US to face prosecution over Wikileaks' publication of warlogs and diplomatic cables that shook the international establishment.
Though he was eventually granted asylum in Ecuador, he has been unable to leave the embassy to take it up as Metropolitan Police officers have guarded it since Assange entered and will arrest him if makes any attempt to leave.
Now, he suffers from a heart defect, a lack of vitamin D and a chronic lung condition after 26 months of confinement, it has been reported.
He told reporters: "I will be leaving the embassy soon but perhaps not for the reasons the Murdoch Press and Sky News are saying at the moment."
He declined to elaborate when asked.
Wikileaks spokesman Kristinn Hrafnsson said he would leave "when the circumstances are right" but said his departure was "not imminent" and denied he would hand himself into police.
He added: "(Assange) is ready to leave at any moment as soon as the ridiculous siege outside will stop and he is offered safe passage."
Hrafnsson made clear the rumours of Assange's imminent departure were not true.
"The world is not coming to an end," he told reporters inside the embassy. "The plan, as always, is to leave as soon as the UK Government decides to honour its obligations in relation to international agreements."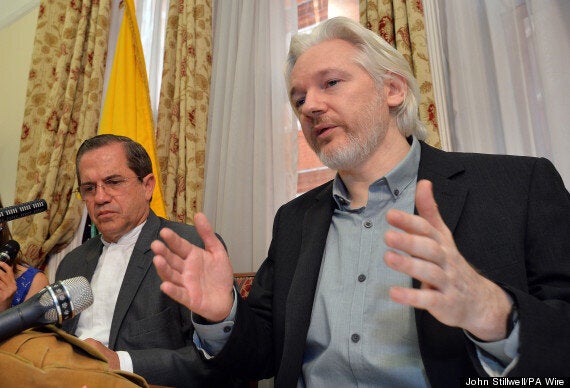 Assange at his press conference this morning with Ecuador's Foreign Minister Ricardo Patino
Extradition lawyer Julian Knowles told HuffPost UK he believed Assange was "giving up" and would surrender to the police to be arrested and extradited, adding there was nothing on the horizon to give Assange hope he would walk out the embassy a free man.
"He's had enough. The Ecuadorians have had enough," he said. "I can't think of anything that would allow him to leave soon."
He added Assange's remarks were "spin" done out of "pride and performance".
The press conference and comments prompted a large gathering of journalists, police and fans outside the embassy, as witnessed by HuffPostUK reporter Louise Ridley who is at the scene.
She said around 200 people were gathered outside the building, though there were only three additional police officers on duty in addition to the regular embassy guard.
Assange's announcement follows speculation that he was planning to leave to seek hospital treatment for heart and lung problems.
He described the "difficulty" of living inside a small room, which he said would affect any "healthy person".
Last week, he lost a legal bid to have the arrest warrant against him cancelled. The decision by Judge Lena Egelin dashed hopes of a breakthrough in his case.
Story continues beneath slideshow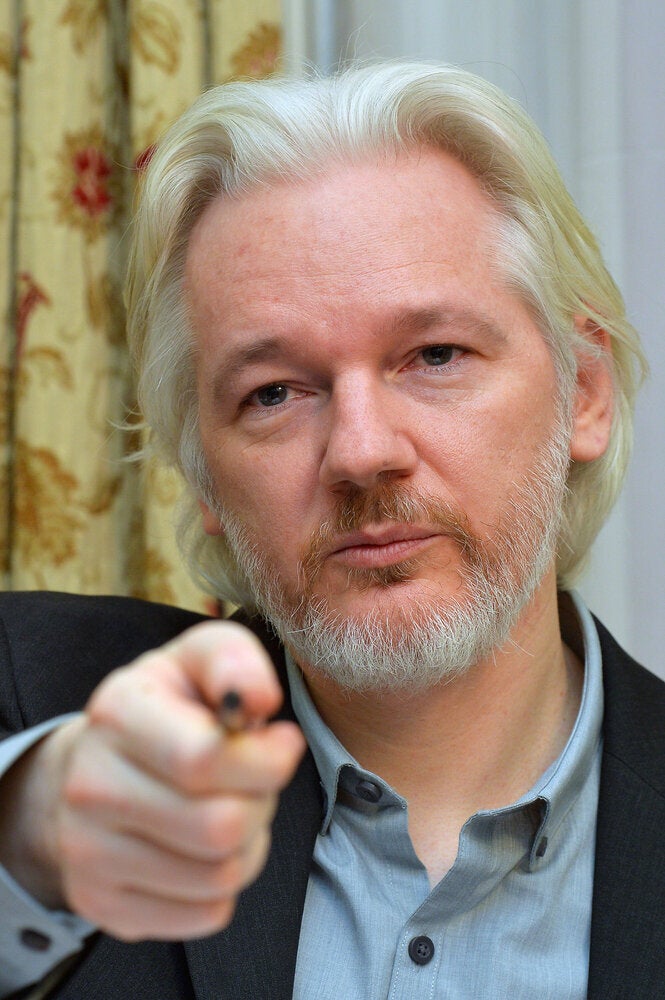 Julian Assange in the Ecuadorian embassy
Assange told journalists there has been "no movement at all" in the Swedish investigation and said the Ecuadorian government and his legal team were the only "reasonable" parties" involved in the case.
During the press conference, Ecuador's foreign minister Ricardo Patino said: "It is time to free Julian Assange. It is time for his human rights to be finally respected."
He said there has been two years of "great uncertainty" and described them as "two lost years for everyone".
Patino said the Ecuador government will try to meet new foreign secretary Philip Hammond in a bid to break the deadlock, adding changes to the UK's extradition laws created a better climate for reaching a deal.
"Over the coming weeks I will be trying out set up a meeting with the UK foreign secretary," he said. "We believe that the recent reforms create a better climate for us to try to reach an agreement."
Assange gave an interview to the Mail On Sunday at the weekend, in which it was reported he feared being arrested if he sought treatment.
"He would come round handcuffed to his hospital bed," a source told the paper.
He told the tabloid: "I have not seen my mother for two years, nor my grandmother, who is 87. In the time I have been in the embassy, both my stepfather and my grandfather have died.
"I am a man in my early 40s and most people will understand that means playing a supportive role in an extended family, being the person others rely on instead of worrying about.
"I am being denied that, and by extension so are they."
A Foreign Office spokesman told The Huffington Post UK: "We remain as committed as ever to reaching a diplomatic solution to this situation.
"We are clear that our laws must be followed and Mr Assange should be extradited to Sweden.
"As ever we look to Ecuador to help bring this difficult, and costly, residence to an end."
"I do not think there is a will [in Britain] to find a solution," Patino told the journalists.
"The British government hasn't taken any steps in that direction. We have made proposals, we have submitted documents, and all we have seen on the part of the British government is an increase in security to make sure Julian Assange does not leave the embassy, but there has been no political will or any steps taken towards a diplomatic solution to this.
"Everyone around the world knows that the rights of Julian Assange have been violated."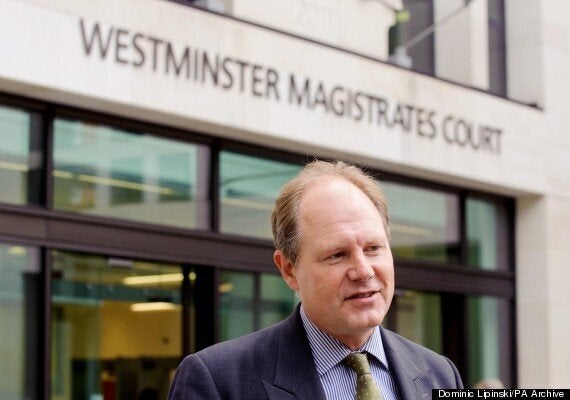 Julian Assange's Friends and Former Friends