On the second anniversary of Julian Assange's dramatic arrival at the Ecuadorian embassy, he shows no sign of leaving. And Britain and Sweden show no signs of letting him leave without marching him down to the nearest police station. So what are the options for the WikiLeaks founder? Stay put forever, face the music, hope for a law change? Or is it all one massive distraction anyway?
We ask close friends and associates of Assange, as well as tech experts and extradition lawyers where Assange will be, in five years time.
The US pledges not to prosecute Assange and the WikiLeaker is free to pursue his interests - after facing questioning in Sweden
Jennifer Robinson, legal advisor to WikiLeaks and director of legal advocacy for the Bertha Foundation The founder of WikiLeaks Julian Assange, right, and his legal advisor Jennifer Robinson
"Ideally, Julian will be able to travel freely around the world as an Australian or Ecuadorian citizen without fear of prosecution for publishing material in the public interest. The US will have seen the error of its ways and the adverse impact on free speech caused by the WikiLeaks grand jury and will have given assurances he would not be prosecuted or extradited.
"Sweden will take his testimony and let that process run its course so he has a chance to clear his name and, after a public inquiry into the mishandling of his case, change its laws on pre-trial detention – much like the UK has already amended its Extradition Act to prevent extradition without charge – to prevent anyone else suffering the injustice Julian has suffered. None of this is unreasonable: simply asking the states involved to respect due process and international human rights standards and, indeed, in the case of the US – respect its own Constitution.
"If not, he will still be stuck inside that embassy at a cost of £20m to UK taxpayers (on current police costs for surveillance of the Ecuadorian embassy in London) unless Sweden, the UK and the US show political will towards resolving this situation."
Result: Putting his doubts aside, Assange accepts President Hilary Clinton's promise not to ask for his extradition. He faces questioning in Sweden, and rehabilitates WikiLeaks.
Ecuador throws out Assange to the mercy of the UK police
Extradition Law Expert Julian Knowles QC, of Matrix Chambers Ecuador's President Rafael Correa (right) and Foreign Minister Ricardo Patino could strike a deal - or be ousted
"One of the most likely scenarios is that there will be a change of heart or government by Ecuador. Julian Assange is by no-one's definition a refugee. A refugee is someone unable to return to their home country because of political persecution, and it doesn't apply to those suspected of a serious criminal offence. Julian Assange is suspected of sex offences.
"So it was a political move, largely to tweak the nose of the US, by Ecuador. And if there is a change of leadership, it may be that they recognise that he has no status as a refugee to seek asylum.
"The other scenario is that he will remain where he is, and there is a precedent for that, Cardinal Mindszenty spent 15 years in the US embassy in Hungary during the Cold War. Sweden's not going to drop the charges. The UK, even with a change of government, cannot legally drop the case, they are bound by the European Arrest Warrant."
Result: Assange is physically removed from the embassy at 3 Hans Crescent, where he is arrested by the two police officers who have been standing guard there since 2012. He is then put on a plane Sweden where he must answer questioning over the sexual assault claims.
Sweden drops the case against Assange, granting him freedom to leave - but will he?
William J Furney, journalist and author who has reported the Assange case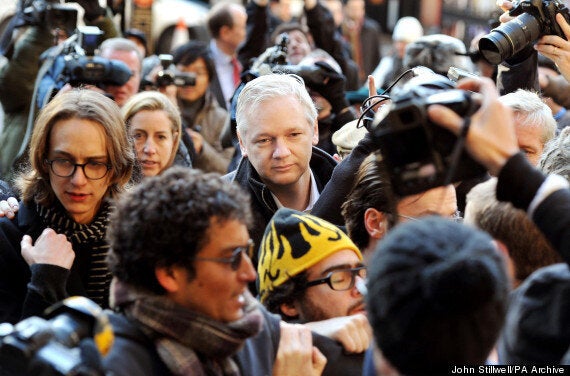 WikiLeaks founder Julian Assange tried to block his extradition to Sweden through the courts
"The reality is the case in Sweden is going nowhere, a fact acknowledged by [Ecuador's] Ambassador Falconi Puig.
"Assange may regret sleeping with the women who since turned on him - and perhaps justifiably so; the case needs to be advanced and brought to court before that can be known. But he surely is sorry he ever walked up the steps of a South American mission in London.
"Even if somehow the Swedish case against Assange is dropped, he still won't be going anywhere. This time last year, on the first anniversary of his asylum bid that was eventually granted by the Ecuadorean government, Assange said that in the absence of a guarantee of safe passage from the UK authorities he risked being arrested and dispatched to the US. His breach of bail conditions is not an offence or a contempt of court. He would face no separate penalty for that, according to lawyers at Hickman & Rose.
Result: Assange decides to take his chances with the British authorities who then arrest him under instruction from American authorities. Although he doesn't currently face any formal charges in the US, a number of experts, including Glenn Greenwald, claim the Obama administration would seek action against Assange.
A change to European Arrest Warrants gives Assange the opportunity to go to Ecuador
Professor Steve Peers, EU legal expert from the University of Essex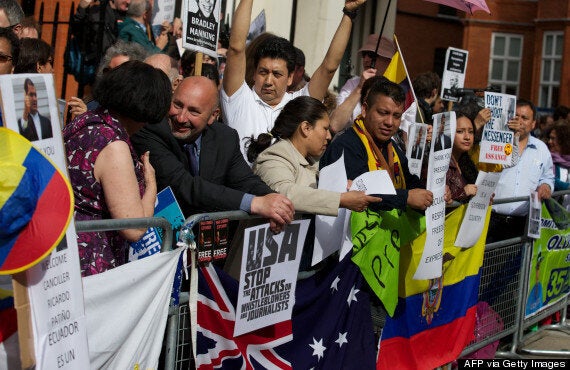 Supporters of Wikileaks founder Julian Assange gather at the Ecuadorian embassy
"The European Arrest Warrant will be affected when the Government decides to opt out of 133 EU home affairs rules. The UK plans to pt-back into the European Arrest Warrant on the same day that it opts out. If that can be accomplished with no gap whatsoever, then he has no argument. Otherwise there is a possible case to be made, and I imagine that others will be making it too.
"It is possible that the UK would sign a form of extradition treaty with the EU and/or individual EU Member States instead. In any event there is an underlying Council of Europe extradition treaty which could apply. So extradition is likely to be at least a little more difficult, but not impossible.
"More importantly here, depending on national law, an EAW can always be withdrawn. The statute of limitations might run out in Sweden [it will by 2020], or his accusers might change their allegations.
Result: The likely best case scenario for Assange, the Wikileaker boards a flight to Quito where he then sees out his days in Ecuador.
Assange remains in the Embassy, but maintains his influence and legacy
WikiLeaks expert Gabriella Coleman, Wolfe Chair in Scientific and Technological Literacy, McGill University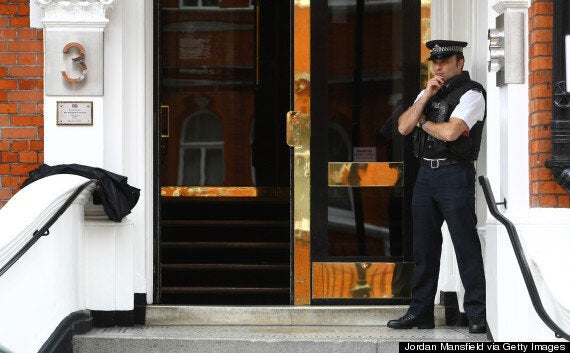 A police officer stands guard in front of the Ecuadorian Embassy in Knightsbridge
"I think he will be stuck in the embassy for a long, long time but will continue to act as a moral compass and guide as he had done with Snowden. Because he's effectively in prison but with more rights that he would have in an actual prison, he has time to work on a big new piece of technology or project. He's relatively young, he's in a position of influence and he's still got the potential to effect change.
"When Wikileaks became an embattled organisation and Assange's personality the subject of debate, many folks were claiming Wikileaks had become irrelevant. I thought that was short sighted and wrong. Yes, they may no longer be the clearing house for leaks but they set into motion something that exceeded WikiLeaks and will now not go away.
"Anonymous continued leaking and Snowden provided the leak to top all leaks and WikiLeaks/Bradley Manning were crucial instigators. While there have always been hackers in the arena of politics, these last four years have been truly unprecedented and this is likely not to go away anytime soon."
Result: Assange invests in a new armchair, a more expansive satellite TV package and gets comfortable in Knightsbridge.
Ecuador and the UK come to an arrangement which forces Assange to face the music
Maarten de Heijer, assistant professor at the Amsterdam Center for International Law, author of 'Diplomatic Asylum and the Assange Case'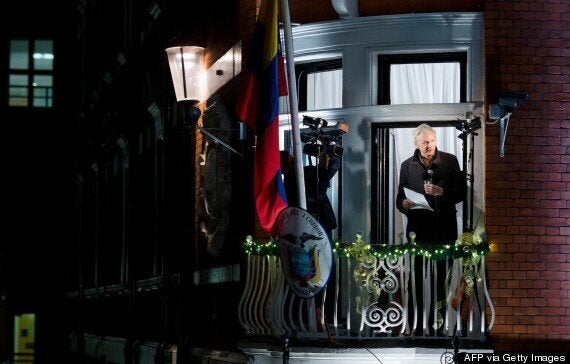 Julian Assange speaks on the balcony of the Ecuadorian Embassy in London
"The fate of Julian Assange, who preferred the uncertainty of diplomatic asylum to his extradition to Sweden, currently hangs in the balance of the territorial rights of the United Kingdom and the diplomatic privileges of Ecuador. Now that the initial diplomatic furore has cooled down, the realisation appears to have dawned on both countries that it takes the two of them to resolve the dispute.
"As the International Court of Justice noted in the Haya de la Torre case [between Columbia and Peru], there are many ways to terminate an asylum... [with] 'considerations of courtesy and good-neighbourliness'... Let us assume that these considerations will work for Ecuador and the United Kingdom as well.
"Victor Raul Haya de la Torre was, after having resided in the Colombian embassy for five more years, eventually allowed to return to Peru, where he managed to become the president of Peru's constitutional assembly in 1979. Julian Assange, and his supporters and antagonists, may wish to resign themselves to the knowledge that diplomatic asylum can last long indeed, but that it rarely lasts for life."
Result: Assange is either arrested and sent to Sweden and/or sent to the US to face espionage charges. The chance of the UK and Ecuador could now be slimmer though after it was revealed the government has cancelled a working group between the two nations to resolve the impasse].
Julian Assange tires and leaves the Embassy, and WikiLeaks' influence is no longer front page media, but shapes history
Iain Overton, former managing editor of the Bureau of Investigative Journalism who worked with Wikileaks Supporters of WikiLeaks founder Julian Assange supporters show banners as they wait for his appearance opposite the Ecuadorian Embassy
"We now have this horrendous hiatus, and unless there is a shift in government policy here or in Ecuador, Assange may tire and decide to face the music. But what is the most galling thing is how the curious tale of Julian Assange and the pretty horrendous accusations against him have overshadowed what WikiLeaks achieved. When I worked very closely with Julian, the media were fascinated by this Scarlett Pimpernel of the digital age.
"Now, you actually see leaders written in respectable national newspapers that say 'WikiLeaks didn't actually reveal anything'. I am aghast, did they actually read the Iraq or Afghanistan war logs? The killing of innocent civilians, the war crimes committed by US helicopters? Julian Assange's unhappy incarceration may be the focus of this anniversary, but there are other potential incarcerations that we may want to focus on. I think the true utility of Wikileaks will be for the historians and the policy analyst, assessing the long term effects of the wars in the Middle East."
Result: Assange is either arrested and sent to Sweden and/or sent to the US to face espionage charges, but at least becomes a 'Wiki-martyr' in the eyes of his supporters.
The public demand leaders to greater freedom for whistleblowers, meaning Assange can leave without fear
Birgitta Jonsdottir, Icelandic Pirate Party MP, former Wikileaker who worked on 'Collateral Murder' film with Assange Supporters of WikiLeaks founder Julian Assange supporters show banners
"I am always an optimist, it is only a matter of being a step ahead of those that think it is their god-given right to shape policy through the revolving door or financial interest. I am not an oracle [when it comes to Julian Assange] [period] but I can tell you how I would like things to be in the future for whistleblowing. My vision is that what WikiLeaks does should be legalised in every corner of the world.
"To be a standard process for leaks in a protected environment, both for content and sources. There must be a change, a new standard for global law, where freedom of information, expression and speech would be honoured as the true pillars for democracy. Whistleblowers would never be put in prison for speaking truth to power and putting information into the public domain if it belongs there. Privacy should be sacred, be it online or offline. This is how I see the future and will be forever thankful to WikiLeaks for being the icebreaker and catalyst for change in our world."
Result: Assange is still deported to Sweden to face sexual assault questioning, but can do so without fear that the US will seek to deport him to be tried for espionage.
Assange leaves the Ecuadorian Embassy for Sweden, who could agree to have him extradited to the US
Rebecca Niblock, Extradition Solicitor at Kingsley Napley LLP Could Julian Assange still find himself in front of a US Grand Jury?
"It's been two long years, probably most keenly felt by Mr Assange but not exactly welcomed by the British government. I suspect however, that the government's patience will outstrip that of Assange, given it is unlikely to take steps to agree a block an onward extradition from Sweden, particularly in the absence of any US request.
"I therefore see no end to the impasse until Mr Assange (or the Ecuadorean government) can bear it no more. I cannot see that Sweden will be willing to give up the ghost on Assange. They cannot be seen to allow a fugitive to evade their justice system with impunity.
"Whilst Assange has his supporters who sense a more malign influence over the charges, it's without doubt that Sweden is entitled to investigate and where appropriate prosecute following allegations of sexual violence. The fact that two years have now passed since Assange first refused to surrender shows that no amount of diplomacy or political persuasion is going to break the deadlock."
Result: Assange is extradited to Sweden and after either being acquitted or serving time for sex offences, the US seeks his extradition on espionage charges.
Assange remains in the Embassy until a third party mediates between Ecuador and Sweden
Michel Levi, a foreign policy analyst at Quito's Simon Bolivar Andina University in Ecuador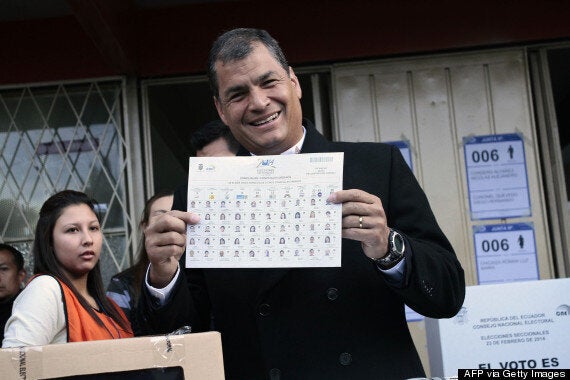 Ecuadorean President Rafael Correa poses before casting his vote at a polling station in Quito
It would be better choice for Assange to confront to the Swedish justice, because the UK won't change the position regarding asylum and Assange's prosecution by Swedish justice and Ecuador won't change its points of view on the asylum rights. It might be possible: a Vatican mediation could change Ecuadorian views...
But at the end of the day, the solution hinges on justice in Sweden and Assange's ability to confront it. With these points in mind: in five years Assange will continue at the Ecuadorian Embassy if current Ecuadorian government remains in power.
Result: Assange gets comfortable in the Ecuadorian Embassy until at least 2017, anxiously waiting to see if the Ecuadorian elections mean a new leader is elected who is less sympathetic to his plight