In a change from the usual summer blockbuster fare, one of this week's UK cinema releases finds Olivia Munn co-starring with Eric Bana in a psychological thriller 'Deliver Us From Evil', that can uncontroversially be described as "dark".
It's based on a real-life exorcism, and Olivia Munn admits that she didn't sleep after watching the real footage of the incident.
"When I saw this footage which is horrific, I didn't sleep for a week, but that's only because I only watched five minutes of it," she tells HuffPostUK. "It's so horrific that it's something that will shake you to your core. It's not like something you'd find on YouTube, it's actual footage." See what else Olivia has to say in our Exclusive Interview above...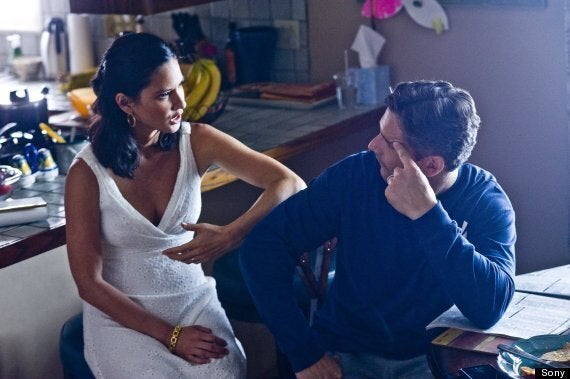 Olivia Munn with Eric Bana in 'Deliver Us From Evil'
Sergeant Ralph Sarchie (Bana) of the NYPD has seen his share of darkness on the mean streets of the South Bronx. Assigned to the 46th Precinct in one of the toughest neighbourhoods of the country, Sarchie has witnessed behaviour on the outer edges of inhumanity, and it has begun to darken his soul, to the point of affecting his relationship with his wife, Jen (Munn), and their young daughter.
But when the increasingly troubled Sarchie and his police partner Butler (Joel McHale), a sardonic ex-Army Ranger always ready for a fight, are summoned to investigate a bizarre incident, the events which follow will test the pragmatic Sarchie's beliefs and understanding. He finds himself in a tenuous alliance with Joe Mendoza (Edgar Ramirez), a renegade priest whose own faith has been tested more than once, and who tries to convince a sceptical Sarchie that the increasingly horrifying occurrences are nothing less than an encounter with several cases of demonic possession.
'Deliver Us From Evil' is in UK cinemas from Wednesday 20 August. Watch the trailer below...
Popular in the Community