Sweden's biggest newspaper has faced the wrath of a nation and issued a grovelling apology after it compared an Austrian football team to Adolf Hitler and Josef Fritzl.
Aftonbladet football writer Ronnie Sandahl made the strong comparison in a preview article ahead of Red Bull Salzburg's match against Malmo in the play-offs for the Champions League group stages.
"Austria has not only given us Josef Fritzl and Adolf Hitler. There is also Red Bull Salzburg, the most hated football club of our time," he wrote.
"When they play each other in the two decisive Champions League games, people from all over the world will be support the Swedes."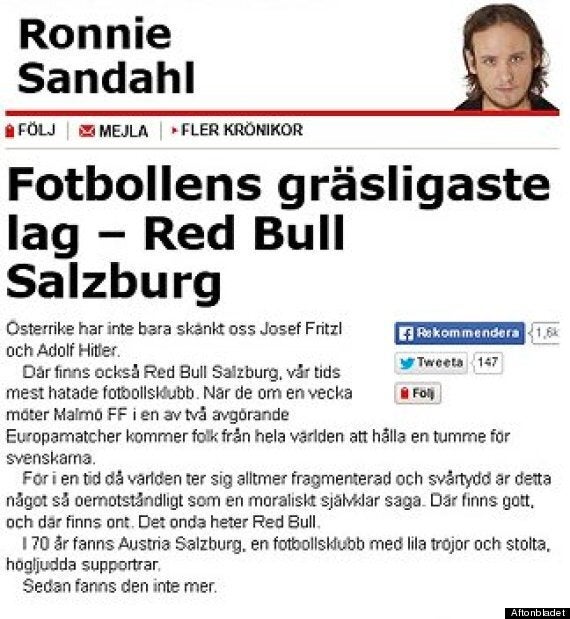 The article, which triggered the outrage
Somewhat unsurprisingly, the piece sparked outrage in Austria among fans of the club who took offence to their team being compared to the Austrian-born dictator responsible for the Holocaust, along with the infamous rapist who held his daughter imprisoned in his cellar for 24 years and fathered seven children with her.
The Austrian FA's president, Leo Windtner, lead the condemnation, The Guardian reports, saying the comments were "directed against the whole nation" and an "unbelievably thoughtless" comparison.
Aftonbladet's editor-in-chief then contacted Red Bull Salzburg, sending a "very personal email" in which he "profusely apologises in the name of the paper and distances himself from these words, the club said.
"For us the matter is closed,' Red Bull Salzburg's sporting director, Ralf Rangnick, said.
Sandahl later took to Twitter to issue a half-hearted apology: