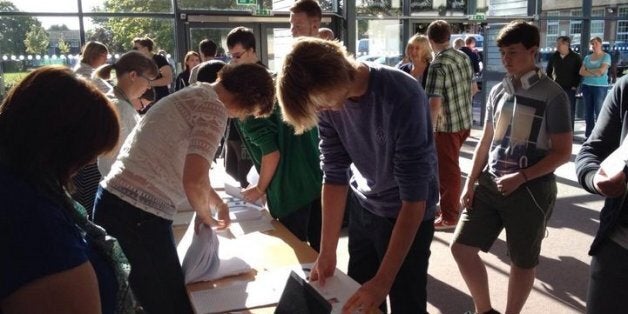 It's results day today. But before you shakily rip open your envelope, check out these top tips from an expert:
Here are the top 10 tips on how to survive results day from Spencer Mehlman, Managing Director of NotGoingtoUni.
1. Plan ahead. Discuss with your parents, teachers or someone you trust, what your options are, depending on your grades. Planning your response for a best or worst case scenario will enable you to respond much quicker and with far less stress.
2. Get a contact number for the college/sixth form departments for your desired post-16 choices. If you narrowly miss out on grades you might need to call them.
3. Focus on your own situation. There are an awful lot of dramatics, tears and tantrums on results day with emotional highs and lows going on all around you. Make sure you focus on your own results and what you need to do – don't get dragged into other people's dramas!
4. You don't need to make those big career decisions alone, visit the national career service for friendly, professional and impartial help. Also check out www.notgoingtouni.co.uk for apprenticeships and local colleges for course inspiration.
5. Top up your mobile and make sure it's fully charged. You'll be calling lots of people to celebrate or commiserate and that means you'll need lots of credit.
6. Take your time. Whether you get the grades you needed or you do better or worse than you thought you would, there is plenty of time for you to consider what to do.
7. Results day can be a turning point for some students. If you have any doubts about A-levels or sixth form college not being the right thing for you, now is the time to speak up! Choosing to take a different path after GCSE's takes a lot of bravery and requires a great deal of thought. Don't let yourself be swayed by the crowd or by teachers who don't know how you feel.
8. If you're panicking for any reason, find somewhere quiet to calm down and get your head together. Focus on your breathing and clear your mind. Taking a few
minutes away from the madness will help you to make sensible decisions and will stop you rushing into making rash decisions.
9. Appreciate your achievement. Whatever your results turn out to be, you've just completed nearly over 12 years of continuous education. You're amazing! You've grown, developed and learned so much and that learning process will carry on throughout your life. You should carry on building on that education, whether you take A-levels and go to uni, do an apprenticeship or start at the bottom and work your way up in your chosen profession. Be proud of what you've achieved so far and never stop doing everything you can to develop your unique skills and your enquiring mind.
10. Taste it. When you're celebrating always remember champagne is best served between 39 and 48 degrees Fahrenheit. Make sure you are in the company of responsible adults though!
Popular in the Community