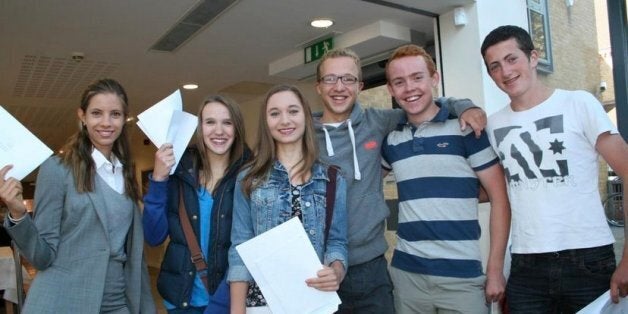 The proportion of GCSE exams awarded at least a C grade has risen, official figures show, amid early indications that some schools are seeing turbulence in results this year.
Just over two thirds (68.8%) of entries scored A*-C, up 0.7 percentage points on last summer, according to statistics published by the Joint Council for Qualifications (JCQ).
But the overall A*-G pass rate has fallen for the second year running, and is down 0.3 percentage points to 98.5% from 98.8% in 2013.
The proportion of entries awarded the highest grade has also fallen slightly, with 6.7% gaining an A*, down from 6.8% last year.
It is the third year in a row that this has dropped.
The rise in A*-C grades is the first increase in three years, and comes despite massive differences in this year's English and maths results, both of which are considered key subjects.
In total, 61.7% of English entries scored a C or higher this year, down 1.9 percentage points from last summer.
This is believed to be the biggest drop in the qualification's history.
Maths saw an opposite result, with 62.4% of entries gaining an A*-C grade, up a massive 4.8 percentage points on 2013.
Exam chiefs suggested that there were several reasons for the hike in maths results, including a decision that in England, only a teenager's first attempt at an exam would count in school league tables.
This may have meant that fewer lower-performing 15-year-olds are taking maths GCSE early, and bright students, who may have taken the qualification early in the past, are now sitting it in the summer, JCQ said.
In recent years there had been a growing trend towards schools entering pupils for exams early, or multiple times, but the new rule has changed this, and figures published earlier this year showed around a 40% drop in early entry across all subjects.
JCQ also said that the fall in English grades could be down to strong candidates taking advantage of a final opportunity to sit the exam last winter, and a switch by students to take an International GCSE (IGCSE) in the subject.
The statistics show that the gender gap has widened at grade C and above this year, with 73.1% of girls' entries scoring A*-C compared with 64.3% of boys'.
But boys are closing the gap at A*, with 5.2% of entries scoring the top grade compared with 8.1% of girls', a difference of 2.9 percentage points, down from three percentage points last summer.
The figures released today revealed a move away from children studying the three sciences separately, the first drop in 10 years.
All three sciences recorded double-digit percentage declines, with biology entries down by almost a fifth (18.6%), and chemistry and physics faring little better, at 16.8% and 14.6% respectively.
The JCQ said this was down to factors including a move to end-of-course exams and the introduction of Further Additional Science, which covers the same course matter and counts as three GCSEs.
This was taken up by more than 21,000 students. Entries for the combined GCSE science exam entries fell by 16.9% from 451,433 to 374,961, sparked by a 34.4% haemorrhage in the number of 15-year-olds being entered.
The number of entries among 16-year-olds rose by almost a quarter (24.4%).
This has led to a 6% increase in A* to C grades because those delaying taking science until 16 are "generally not high-performing candidates", the JCQ said.
In languages, Spanish was the only one of the three traditional languages to see an increase in entries, with German and French both dropping.
But they did not cancel out a 16.9% rise across the board in language entries last year.
Michael Turner, director general of the JCQ, said: "There has been a significant amount of change to the system this year and although UK level figures are relatively stable we expect more schools and colleges to see volatility in their results.
"The extent of this volatility will depend on how much change from their usual practices they experienced and how they adapted.
"Entry patterns are very different this year. We have seen a dramatic decline in the number of entries from 15-year-olds, which is largely due to a change in the school accountability measure, where a candidate's first entry counts in performance tables, and the move to end-of-year exams in England.
"As we would expect, where the change in entry patterns is greatest, such as the sciences, English and maths, we have seen some impact on results.
"But despite these changes and the potential for increased centre volatility, candidates can be confident that standards have been maintained."
Joe Vinson, NUS vice president (further education), said: "Today is the start of a really important time for so many of our members, as they receive the letters that will lead them onto the next steps of their lives.
"It should be a day to celebrate the achievements of students and teachers up and down the country.
"If you've just received your GCSE results and aren't sure what you want to do next, don't panic. More and more pupils are choosing to go outside the traditional A level route by taking up apprenticeships and working towards other vocational qualifications. Whatever happens, there should be options available for you."
In an open letter to schools and colleges, the JCQ said that those institutions that had traditionally made use of the winter exam season, entered pupils early, or made greater use of resitting are likely to have seen the greatest changes in results this year.
AQA chief executive Andrew Hall addedt the biggest impact on exam results this year had been from schools not letting students sit exams early, whereas before they could sit multiple times from 15.
Maths and science were among the subjects most likely to be sat by 15-year-old students under the old regime, he added, with those subjects' results affected this year accordingly.
He said: "What I think is really of note is the change in the 15-year-old results overall. What is driving that is the 'first result counts'. Only the students who are really strong in the school's judgment are being entered at 15, whereas before they were being entered to see how they get on."
Popular in the Community