The Islamic State has posted chilling new video purporting to show captured Yazidis converting to Islam, under the black flag of the militant group.
The video was posted less than 24 hours after IS distributed a video showing the beheading of US journalist James Foley, which caused shockwaves around the world.
The new film shows men and boys, looking calm and straight ahead as they file off a bus in an undisclosed location, shaking hands and embracing men in traditional Islamic dress and IS fighters.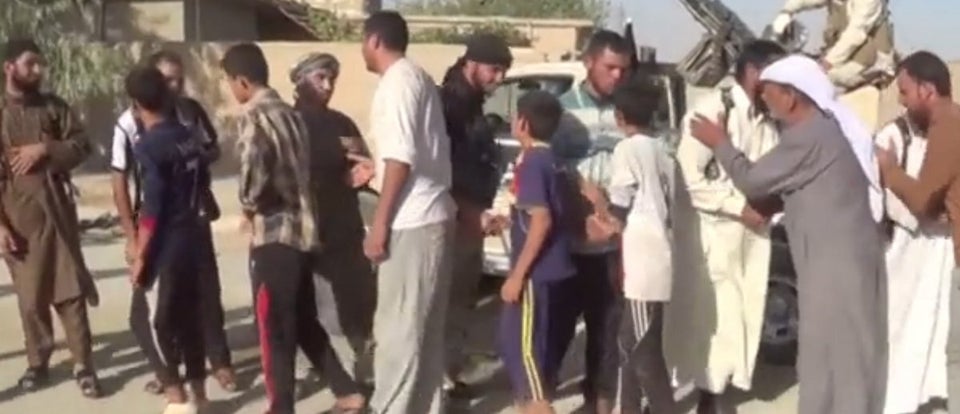 Yazidis 'convert' to Islam
The video cuts to a bearded man in black, next to a younger man in grey combat fatigues, both holding AK-47 assault rifles. The middle-aged man says that Yazidis, who are an ancient Zoroastrian sect, will "rid themselves of the fire of hell" by their conversion.
The video cuts to dozens of Yazidis sat on the floor of a building in rows, the black flags of IS hanging over every doorway. They are young, many of them barely teenagers. On the front row, two are in football shirts, one of the Iraqi national team, the other in the familiar blue-and-white stripes of Argentina.
"Men, women and children have converted and I was with them and they are happy with their conversions," the IS militant says in a voiceover. "We advised the Yazidis to come down from the mountain and convert."
"If they stay on the mountain, they will die of starvation and thirst. This talk about aid from Western and crusader countries is all lies. If they convert, we will give them everything they need. They will live a happy life."
The same man is seen speaking to the assembled group, asking them questions about observance, and then leading them in an incantation. The men, some raising their hands, chant in response.
The men are then seen bending forwards in prayer, assembled in straight lines, as two militants hold up the IS banner.
Last week, the radical jihadists "massacred" 80 Yazidis for refusing to conver, Kurdish officials reported.
That spate of killings followed disturbing reports from early August where IS militants were said to have killed at least 500 Yazidis by burying some alive, as well as taking hundreds of women as slaves.
Iraqi human rights minister Mohammed Shia al-Sudani told Reuters: "We have striking evidence obtained from Yazidis fleeing Sinjar and some who escaped death, and also crime scene images that show indisputably that the gangs of the Islamic State have executed at least 500 Yazidis after seizing Sinjar [the mountainous region home to the Yazidis]."
"Some of the victims, including women and children were buried alive in scattered mass graves in and around Sinjar."
"The terrorist Islamic State has also taken at least 300 Yazidi women as slaves and locked some of them inside a police station in Sinjar and transferred others to the town of Tal Afar. We are afraid they will take them outside the country," he continued.
"In some of the images we have obtained there are lines of dead Yazidis who have been shot in the head while the Islamic State fighters cheer and wave their weapons over the corpses. This is a vicious atrocity."