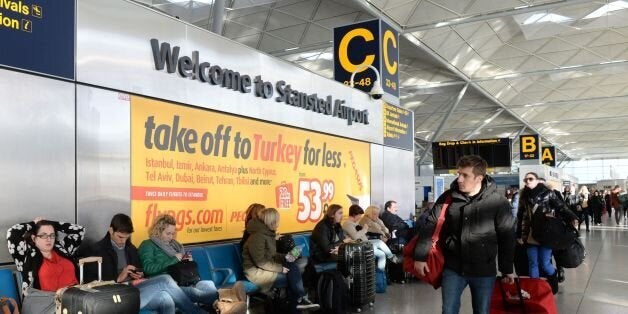 A Cypriot student is facing possible jail after admitting taking eight explosive flares on to a plane at a major UK airport and possessing a terrorist manual.
Andreas Pierides, 22, was stopped on the gangway at Stansted Airport as he was about to board a flight to Cyprus on May 15.
Police were alerted to Pierides after a member of the public spotted him on a train reading an electronic publication with instructions on how to make a car bomb on January 19.
As they arrested him, officers seized a box of distress signal mini-flares which they found inside luggage which had already been stowed on the plane, a court heard.
But they handed them back in error after Pierides was charged for having a terrorist manual.
Five days later, police went to his bail address in north London to ask for the flares back and arrest him again, this time under the Aviation Security Act 1982.
At a hearing at the Old Bailey, the Southampton University business student pleaded guilty to a charge under the 2000 Terrorism Act of possessing an electronic version of the Anarchist Cookbook.
Pierides, of Lullington Garth, Finchley, also admitted having a dangerous article in an airport.
Prosecutor Alex Chalk said the flares were packed in a compact box and would only have exploded if there had been an external fire.
He said it was accepted that the defendant had been "stupid and naive" and did not associate with terrorists.
But while it was not illegal to have flares in his native country, ignorance of British law was "immaterial" to the case, he said.
A fan of Cypriot team AC Omonia, the defendant had the flares for use at football matches, the court heard.
His lawyer Jeremy Ornstein said: "There is a very widespread use of different types of flares at football grounds as part of the underlying political nature of football-supporting culture there."
He accepted that the offence "crossed the custody threshold" but asked the judge to consider a suspended sentence, saying his client was of previous good character and had acted out of naïveté.
He said: "The flares themselves were handed back to the defendant. It is a sign of his naïveté, his innocent attitude, he still had them five days later when the police asked for them back."
He added that the particular type of flares, which glow for five seconds after being fired into the air, only posed a "theoretical risk".
The judge Mr Justice Sweeney ordered a pre-sentence report and adjourned sentencing to October 27.
Related