Remember those long-ago days when Benedict Cumberbatch and Martin Freeman were a pair of jobbing actors in a show that made us Brits feel just that little bit cleverer about ourselves?
Well, it seems like the world has finally caught up, with both actors, plus their writer Steven Moffat, taking home Emmy Awards last night in leading categories for their sterling work in 'Sherlock: His Last Vow', the final episode in the most recent trilogy of 'their hit show'.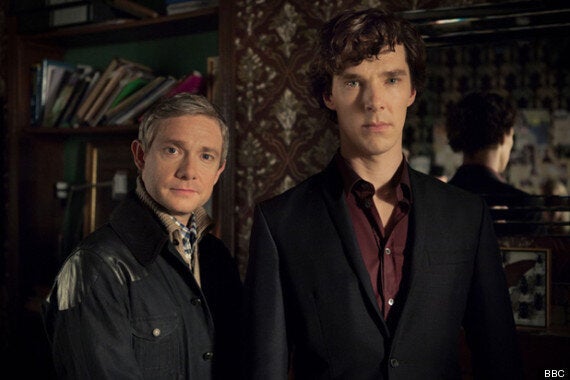 Martin Freeman and Benedict Cumberbatch are now both Emmy Award winners for the hit show
Benedict Cumberbatch fought off a field full of other high-calibre Brits including Idris Elba, Chiwetel Ejiofor and Martin Freeman himself (for 'Fargo') to be crowned Best Leading Actor In A Mini-Series or Movie, while Martin Freeman picked up the gong for Best Supporting Actor.
Except he didn't actually pick it up because, perhaps befitting their new superstar status, neither actor was present in the room when their names were read out and the gongs handed over. Both were surprise outsiders in their categories, so perhaps they thought there was little point interrupting their busy schedules to sit in a room grinning fixedly as other people climbed the stage.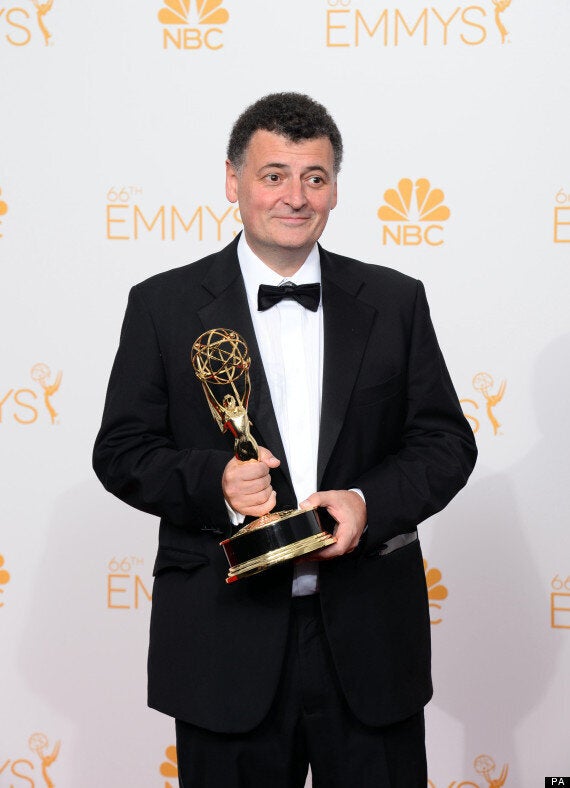 Steven Moffat was in LA to collect his Emmy Award for 'Sherlock' - "I'm thrilled"
In Martin's case, it was left to US comedian Stephen Colbert to keep hold of the gong he'd just presented. "Martin couldn't be here tonight, so I accept the award on my behalf," he said.
Steven Moffat WAS there to receive his award, for his writing on the the same 'Sherlock' episode. "Thank you so much, this is utterly thrilling," he told the US crowd.
It will have escaped no one's notice that Moffat was also behind that other British juggernaut 'Doctor Who', which returned to our screens this weekend (REVIEW here), so the timing couldn't have been better to highlight Mr Moffat as a fine creative ambassador for our country.
While fellow Brit Colin Bucksey also picked up a gong for his direction on 'Fargo' - other Brits were less fortunate. There were no gongs for 'Downton Abbey' this year, Michelle Dockery losing out to 'The Good Wife's Julianna Margulies in her category of Leading Actress in a Drama Series, and both Dame Maggie Smith and Joanne Froggatt going home empty-handed, in favour of 'Breaking Bad's Anna Gunn.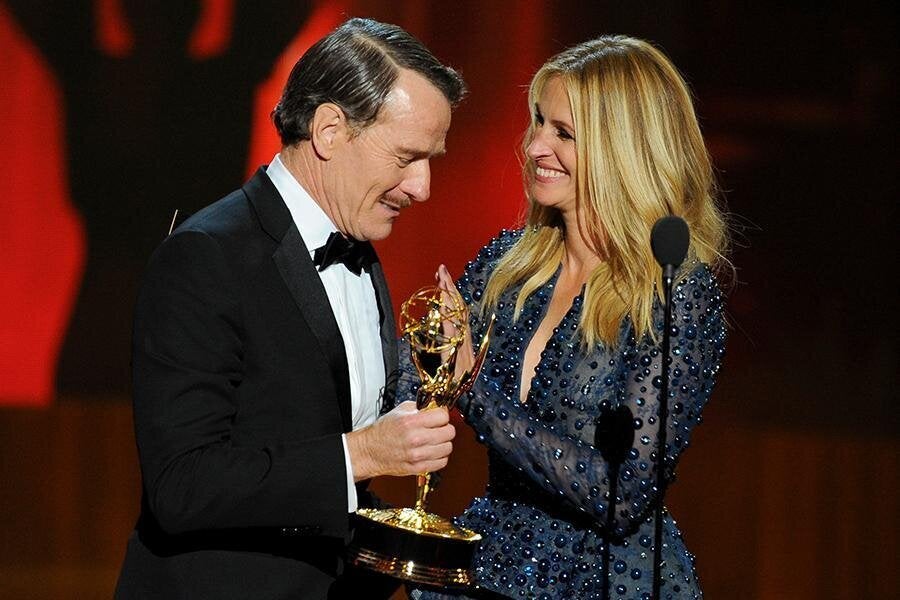 Emmy Awards 2014
Popular in the Community