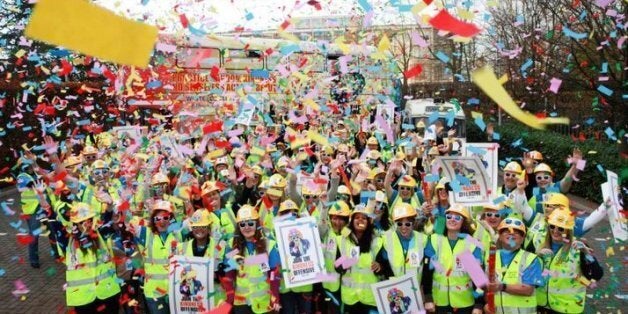 They say if you don't ask, you don't get. But usually this age-old advice is only dealt out when discussing a pay rise or a flight upgrade to first class.
Seldom, in fact, is the idea of putting your neck on the line used for anything other than our own material gain and for the greater good.
That's where The Kindness Offensive comes in. The London-based initiative is one of the largest random acts of kindness in the world and is giving back to communities and people in need... but on an epic scale.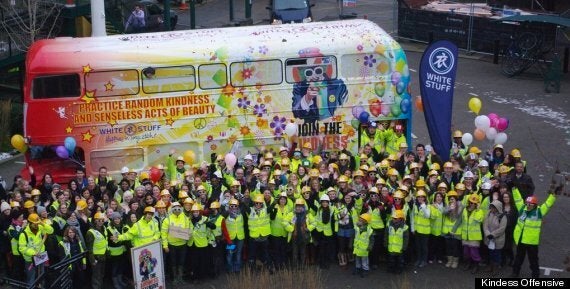 The way it works is simple - or at least that's how founding member David Goodfellow explains it.
The Kindness Offensive are phone whisperers. Meaning they call people up, ask them to make a donation to a project whether it is food or books and, more often than not, they get what they've asked for.
"We've got a 100% success rate, because if one call isn't successful, we'll try elsewhere - and eventually we'll get what we're after," explains David. "It's about changing the mindset to become more optimistic - we know the items are out there, it's just a case of tracking it down."
And this isn't small scale stuff either.
"To date we've acquired £5.5 million and have properties with a net value of over £30 million," David reveals.
So how do they find projects to work on?
"We get a lot of people from outside The Kindness Offensive approach us with ideas," says David. "There are a core group of six of us, so as long as one of us is behind the idea, we'll give it a go."
Once a project is agreed upon, a request will be sent to the 6,000-strong volunteer database - which includes a range of supporters including Mayor of London Boris Johnson. The call out will detail any specific skill requirements or criteria for the project (in the past they've needed everything from electricians to magicians) and then, once they have enough volunteers signed up, The Kindness Offensive get to work.
The projects vary considerably in both scale and nature, but each is tackled with equal vigour.
"We recently had a project to source enough teddy bears to put in every police vehicle in the country," says David. "The toys are supposed to calm young children in distress - whether that's because mum's got a speeding ticket or because the family is caught up in a domestic violence incident."
One of the biggest projects the team recently took on was acquiring a disused pub in Camden, London, and turning it into The Kindness Offensive headquarters - just one of the properties in their extensive portfolio.
"We did quite a lot of research into the UK property market," explains David. "It turns out there are a lot of empty properties around, which are costing landlords a lot of money in terms of security and upkeep.
"By letting us occupy a property, not only do we protect against squatters but we're good at fixing leaky taps too."
"It's also great for them to be seen to support good causes," he adds.
The team is keen to spread their positive message. In the next twelve months they hope to expand their reach through opening more London sites, they have a renovated London bus to travel the country and each year they host the Everyday Kindness Awards in August, which celebrates random acts of kindness.
"The awards are a really simple idea, recognising and rewarding people for being kind in everyday situations. We thought it was about time that normal people got some recognition for being awesome," says David.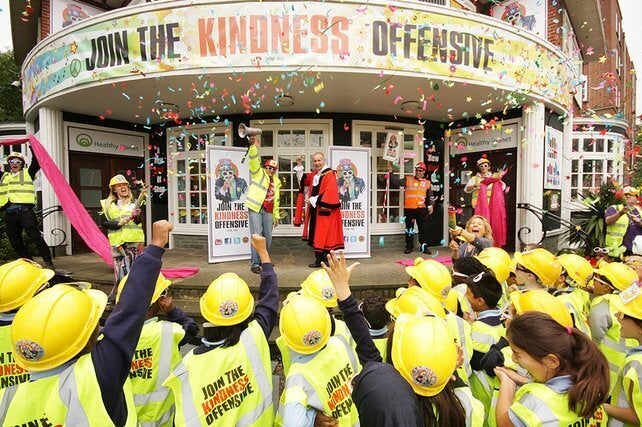 The Kindness Offensive
So why has the random acts of kindness gained such momentum?
"The world's become a very strange place, it's taken for granted that Londoners don't know our neighbours, we're never more alone then when we're on a crowded tube train and the authorities warn us against helping homeless people," he says.
"Modern life is isolating and people are starting to resist. The random acts of kindness movement is a way of breaking though all the walls that seem to get thrown up so freely around us nowadays."
Related