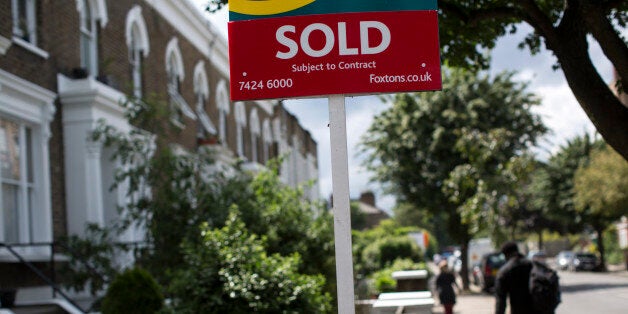 House prices surged by 11% year-on-year in August to reach another new all-time high of £189,306 on average, Nationwide has reported.
Property values were pushed up by 0.8% month-on-month, marking the sixteenth monthly increase in a row, and the annual pace of price growth accelerated from 10.6% in July as a result.
Typical UK house prices first surpassed their 2007 peak in cash terms in May this year and they have been hitting new records every month since.
Tom Copley, Labour's housing spokesman in the London Assembly, warned that "sky-high" property prices were making parts of the capital "the preserve of the super-rich".
Blogging for the Huffington Post UK, he wrote: "With people increasingly having to move to outer London just to be able to afford to rent or buy a property, our capital is in danger of losing its distinctive character - that of a diverse, multi-cultural and socially mobile city."
According to Nationwide, year-on-year house price growth has been in double digits since April. Despite property values reaching record highs over the summer, there have also been signs of a cool down in the market in recent months.
Mortgage approvals generally dipped after stricter lending rules, which force lenders to ask for more detail about a mortgage applicant's spending habits, came into force at the end of April but approvals have since rebounded slightly.
Nationwide said it is still unclear how much of the cooling in activity was due to the introduction of the new Mortgage Market Review (MMR) rules as opposed to an underlying loss of momentum in the market.
This comes as separate research released by property analyst Hometrack suggested there were signs that house price increases were going to slow in the coming months, as the gap between house sellers' asking prices and the amounts that buyers are willing to pay was widening.
In further signs that competition among buyers is starting to ease, the National Association of Estate Agents (NAEA) reported this week that only one in 25 (4%) of homes were sold for above the asking price in July, compared with nearly one in five (19%) in May.
Robert Gardner, Nationwide's chief economist, said that while house price growth continues to outpace earnings by "a wide margin", cheap mortgage rates mean that, at present, typical mortgage payments as a share of people's take-home pay are relatively affordable.
Recent speculation about the possibility of the Bank of England base rate moving from its historic 0.5% low has prompted calls for homeowners to start preparing now for how they will cope with the prospect of borrowing costs becoming more expensive.
Gardner said: "The prospect of interest rate increases together with subdued wage growth may temper demand in the quarters ahead.
"However, the brightening economic outlook is likely to provide ongoing support for housing demand. Consumer sentiment remains buoyant thanks to declining inflation and sustained increases in employment.
"Similarly, the first increase in interest rates still appears some way off - we expect the first increase in the first quarter of 2015.
"Guidance from the Bank of England suggests that the increase in interest rates is likely to be gradual, and they are expected to settle at a level somewhat below the average prevailing before the financial crisis.
Related