The family of a five-year-old with cancer, who removed him from hospital without doctors' consent, posted a YouTube video defending their decision.
Ashya King is expected to return to Southampton General Hospital for further treatment after he was found with his family by Spanish police yesterday.
His parents, Brett King, 51, and Naghemeh King, 45, said they were seeking medical treatment for Ashya in the Czech Republic before they were arrested at 10pm local time after police stopped the family's vehicle, according to Hampshire Constabulary.
An international search was launched after Ashya's family took him from hospital on Thursday afternoon and travelled on a ferry to France some two hours later, before heading south to Spain.
Police had warned that the family might not be able to work the machine that fed Ashya and that it would run out of battery power.
In the video posted shortly before their arrest, his parents said Ashya was doing well and said the family had decided to take him out of hospital to seek a cancer treatment called proton beam which is not available on the NHS.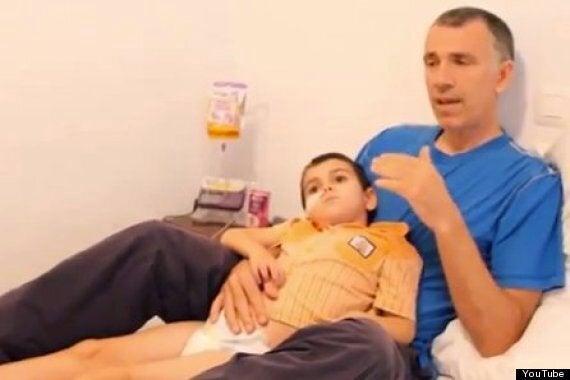 Brett King with his son Ashya, shortly before the arrest of him and his wife
Sitting on a bed with Ashya in his arms, Mr King said: ''We were most disturbed today to find that his face is all over the internet and newspapers and we have been labelled as kidnappers putting his life at risk, neglect.''
Mr King said there had been ''a lot of talk'' about the machine used to feed Ashya and whether they could make it work.
He said: ''As you can see there's nothing wrong with him, he is very happy actually since we took him out of hospital.
''He has been smiling a lot more, he has very much been interacting with us.
''But I just wanted to say very quickly why we took him out of the hospital.
''The surgeon did a wonderful job on his head that took out the brain tumour, completely they reckon.
''But straight away afterwards he went into what's called posterior fossa syndrome, which means very limited moving or talking or doing anything.''
Mr King said he had spoken to specialists following Ashya's surgery and had requested proton beam treatment, which was not available on the NHS, but that he would raise the money to pay for it.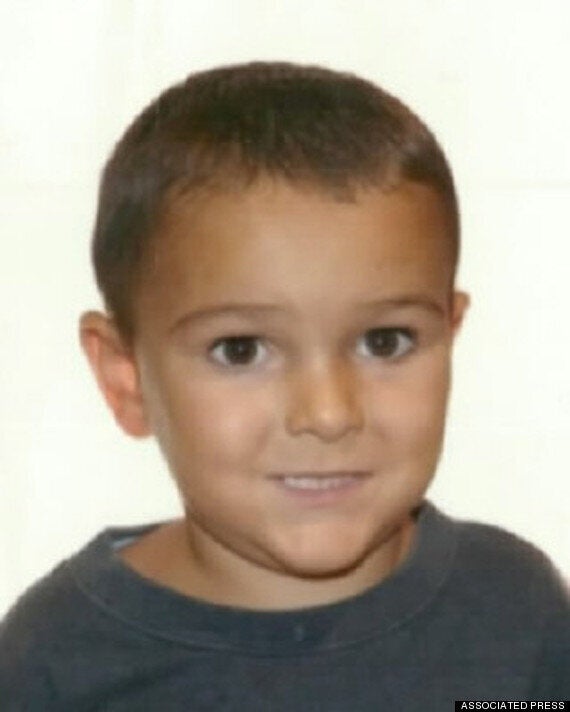 Mr King said his son's treatment seemed like ''trial and error'' and he was told if he questioned the treatment the hospital would seek an emergency protection order.
He said: ''After that I realised I can't speak to the oncologist at all, because if I actually ask anything or give any doubt I wasn't in full accord with them, they were going to get a protection order which meant in his deepest, darkest hour I wouldn't be there to look after him, and neither would my wife - they would prevent us from entering the ward.
''That's such a cruel system I decided I to start looking at the proton beam myself.''
He added: ''We decided to try and sort it out ourselves but now we're refugees almost.
''We can't do anything. The police are after us. The things we want to do to raise the money to pay for the proton beam, they've prevented it now.
''So my son is being treated and he's doing fine. We're very happy with his progress. We're not neglecting him. He has everything he had in hospital.''
Mr King said Ashya was ''responding so much better'' than he did in hospital.
He added: ''I was going to get the money to pay for the proton beam therapy but they have prevented that now because the Spanish police are involved and I can't do want I wanted to do.''
Mr King urged police to call off ''this ridiculous chase''.
''We're not neglecting our son, he's in perfectly good health,'' he said.
''My son is smiling, he's happy, we're doing things as a family. We just want to be left in peace. He's very sick. I just want to get on with his treatment. I'm not coming back to England if I cannot give him the treatment I want, which is proper treatment.
''I just want positive results for my son.''
Assistant Chief Constable Chris Shead of Hampshire Constabulary said: "We don't have many details on Ashya's condition at this point in time but what we do know is that he was showing no visible signs of distress.
"Ashya has now been taken to a hospital in Malaga. The parents have been arrested. They have been taken to a police station."
Officers said the boy was due to be returned to hospital in England while his parents - including Mr King, are due to be interviewed by police.
When they stopped the family's Hyundai people carrier, officers found Ashya and his parents inside.
Mr Shead said: "There are no winners in this situation. I've said all along that this must be a terribly distressing time for Ashya's family and I stand by that now."
He added that it was too soon to say when Ashya would come back to the UK but Southampton General Hospital have been contacted so they can liaise with the medical taking care of him in Spain.
"Ashya's brothers and sisters were not in the vehicle," Mr Shead said. "We have located them. They're all OK, they're fine. They are actually in a hotel about 10 miles away."
He also said that a team of Hampshire police officers would be going to Spain today to continue the investigation.
Popular in the Community