Police have defended their decision to launch an international search after a five-year-old boy with a brain tumour was taken out of hospital by his family without doctors' consent.
Brett King, 51, and Naghemeh King, 45, were arrested yesterday at 10pm local time by Spanish police acting on a European arrest warrant in Velez-Malaga on the Costa del Sol.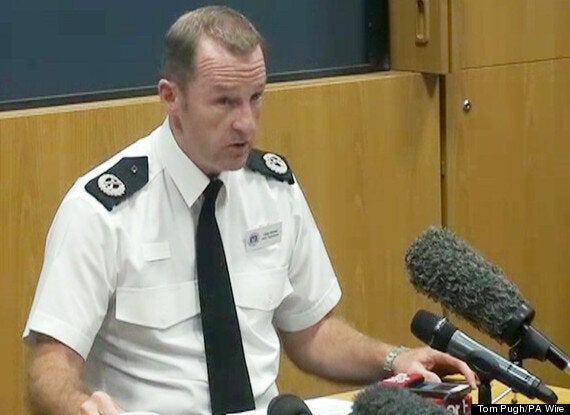 Hampshire Constabulary Assistant Chief Constable Chris Shead
Assistant Chief Constable Chris Shead, of Hampshire Constabulary, said he was aware the police's approach had created a "significant amount of debate".
He said: "We had medical experts telling us that Ashya was in grave danger. Medical experts were saying to us that if he didn't get the care that he needed, there was a potential threat to his life.
"Faced with those circumstances, I make no apology for the police being as proactive as we possibly can to actually find Ashya and ensure that he gets the help he needed."
Mr Shead added: "I would much sooner be standing here facing criticism for being proactive than to stand here and face criticism for doing nothing and then potentially having to explain why a child has lost his life."
The officer explained that the Kings were found because a member of staff at the hotel where they were staying recognised the family thanks to the police's media appeal.
A spokesman for the Spanish National Police said that its appeal on Twitter for help had been key.
"This case shows just how effective Twitter can be as an operational tool," he said.
"Within hours of appealing on Twitter for help to find the boy we received a call from a member of the public who had seen the appeal, which allowed us to locate him and his parents."
The Kings are currently being held in custody and police have 72 hours to question them before handing them over to a judge, who will begin extradition proceedings.
They are receiving consular assistance from the Foreign Office and have the option of appealing against extradition, Mr Shead said.
British police are due to arrive in Spain later today to continue their investigation and question them.
Mr Shead explained that British officers would be assisting Spanish authorities with extradition proceedings.
The officer explained that after Ashya's parents were arrested on suspicion of neglect he was taken to a hospital in Malaga last night and placed in a high dependency unit.
He added that the boy has now been moved to a lower dependency unit today.
"My hope is that Ashya gets the medical help he deserves and needs and that he is able to become as well as he possibly can," he said.
"It is an investigation now that the police have to conduct on the circumstances of the parents taking Ashya.
"We will do that in consultation with the Crown Prosecution Service and they will apply their usual test and if there's a case to answer it will go down that route.
"Ashya's best interests now is a matter for medical experts, the medical experts from Southampton General will liaise with their counterparts in Spain and they will determine what is the best course of action for Ashya."
Ashya's brothers and sisters were not present when their parents were arrested, police said.
The family has connections in the south of Spain and are reported to own a holiday home there.
In a YouTube video blog released last night, Mr King, a Jehovah's Witness, explained that the family had decided to take him out of hospital to seek a cancer treatment called proton beam which is not available on the NHS.
Sitting on a bed with Ashya in his arms, Mr King said: ''We were most disturbed today to find that his face is all over the internet and newspapers and we have been labelled as kidnappers putting his life at risk, neglect.''
Police had warned that the family might not be able to work the machine used to feed Ashya and that it would run out of battery power.
But Mr King said: ''As you can see there's nothing wrong with him, he is very happy actually since we took him out of hospital.
''He has been smiling a lot more, he has very much been interacting with us.
Explaining why the family had travelled to Spain, Mr King said his son's treatment in Southampton seemed like ''trial and error'' but he was told if he questioned it the hospital would seek an emergency protection order.
He said: ''After that I realised I can't speak to the oncologist at all, because if I actually ask anything or give any doubt I wasn't in full accord with them, they were going to get a protection order which meant in his deepest, darkest hour I wouldn't be there to look after him, and neither would my wife - they would prevent us from entering the ward.
''That's such a cruel system I decided I to start looking at the proton beam myself.''
He added: ''We decided to try and sort it out ourselves but now we're refugees almost.
''We can't do anything. The police are after us. The things we want to do to raise the money to pay for the proton beam, they've prevented it now."
Mr King explained that the family had been intending to seek proton beam treatment for Ashya in the Czech Republic.
''Proton beam is so much better for children with brain cancer,'' he said. ''It zones in on the area, whereby normal radiation passes right through his head and comes out the other side and destroys everything in his head.
''We pleaded with them (in Southampton) for proton beam treatment. They looked at me straight in the face and said with his cancer - which is called medulloblastoma - it would have no benefit whatsoever.
''I went straight back to my room and looked it up and the American sites and French sites and Switzerland sites where they have proton beam said the opposite, it would be very beneficial for him."
Following Mr King's remarks, University Hospital Southampton NHS Foundation Trust today said it had offered Ashya's family access to a second opinion on the boy's treatment and offered to help with organising treatment abroad.
A spokesman said: "Our priority has always been Ashya's welfare and we are delighted that he has been found. We are now working closely with colleagues in Malaga to ensure he receives the essential medical support he needs.
"We are aware of the comments made online by his father. Throughout Ashya's admission we have had conversations about the treatment options available to him and we had offered the family access to a second opinion, as well as assistance with organising treatment abroad.
"We understand how distressing this situation is for everyone involved, particularly Ashya's family. We will continue to do what we can to support them and assist the police in providing any information they require."
Popular in the Community