This Pit Bull is taking it easy after heroically saving the life of its eight-year-old owner after he was attacked by bees.
Hades - yes, Hades - grabbed Jesse-Cole Shaver by the leg of his trousers to pull him away from a swarm of bees that attacked after another child he was playing with disturbed their nest on a trail behind their apartment block in Oregon City, Oregon, in the US.
"Hades saw me and came and dragged me up to the grass and stopped and let me crawl on her back and took me to my mom," Jesse-Cole told local TV network Fox 12.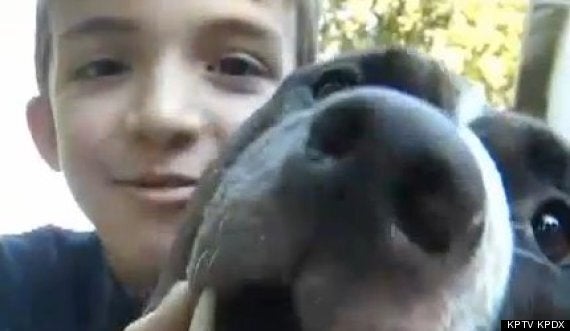 Hades the pit bull with Jesse-Cole
He had been stung at least 24 times by the time Hades dragged him away and the boy's mother saw what was happening.
"A couple of these kids could have gotten really sick or died, I'm sure of it," she told Fox 12.
Her 14-year-old daughter Jasmine Jones is allergic to bees and was stung five times escaping. She was taken to hospital for treatment and released after a few hours.
"Oh, I thank my puppy," their mother added. "I'm so glad we adopted her."