The first trailer for Jon Stewart's directorial debut 'Rosewater' has arrived, and Nordic Noir fans will immediately spot a familiar face.
Kim Bodnia, last seen as policeman Martin Rohde being arrested in front of his colleague Saga Noren in the second series of 'The Bridge' plays the title role in Jon Stewart's political thriller based on a real-life story.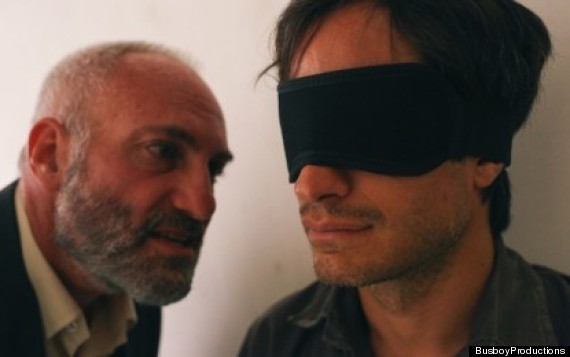 Kim Bodnia stars with Gael Garcia Bernal in 'Rosewater'
Mexican actor Gael Garcia Bernal stars as Maziar Bahari, a journalist who once appeared on Jon Stewart's 'Daily Show', before being arrested and tortured in Iran for 118 days in 2009. Because Bahari was blindfolded, he was unable to distinguish his captor, save for his one identifying facet - he smelled of rosewater.
The film received a standing ovation on its premiere at the Telluride Film Festival this weekend, and will be making its international debut this month at the Toronto International Film Festival. Release dates in the US and UK will follow.
Kim has already confirmed that he won't be appearing in the third and final series of 'The Bridge' when it appears on our screens next year. Fans will be relieved to know that Sofia Helin, who plays Saga, will remain up front and centre.
LIKE US ON FACEBOOK | FOLLOW US ON TWITTER