It is estimated that around 215,000 people in the UK have chronic hepatitis C, but there may be some good news for those suffering.
A new pill treatment that is said to offer a "cure" for the chronic liver disease has been launched in the UK.
The drug daclatasvir can rid 90% or more patients of the infection in 12 weeks when combined with other agents.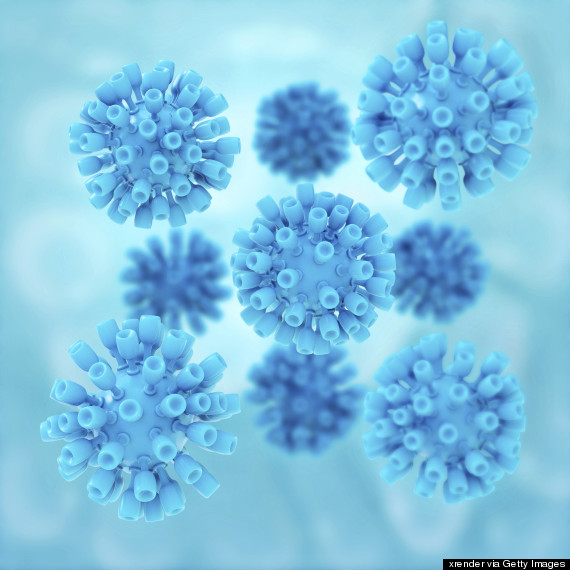 Hepatitis C
Used with another pill, sofosbuvir, it has produced clinical cure rates of 89% and 98% in patients with different viral strains.
Standard treatment for hepatitis C involves injections of the immune system stimulator interferon and can have serious side effects. It typically yields cure rates of 60% to 80%.
The launch of daclatasvir makes a daily pill-only treatment for the disease available that brings eradication of hepatitis C a step closer.
Charles Gore, chief executive of the Hepatitis C Trust, said: "We are delighted by today's announcement.
"Each new treatment for hepatitis C takes us closer to making the elimination of hepatitis C a realistic possibility, by improving both cure rates and tolerability.
"With only 3% of people with hepatitis C in England accessing treatment each year, it is crucial patients are able to access new treatments as early as possible so they have the opportunity to get cured of this cancer-causing virus."
Hepatitis C, a blood-borne virus commonly spread by drug takers sharing needles, can hide for years without producing symptoms before leading to potentially fatal liver damage or cancer.
Deaths from the infection have almost quadrupled in the UK since 1996. Each year, more than 200,000 people are infected, but up to a half go undiagnosed.
SEE ALSO:

The Hepatitis Time Bomb, Fuelled by the War on Drugs
Trial results showing the effectiveness of the pill treatment were hailed as a "turning point" by experts when they emerged in April.
Dr Kosh Agarwal, from the Institute of Liver Studies at King's College London, who took part in the research, said: "Over the last decade we have seen an alarming rise in the number of deaths and hospital visits caused by people with hepatitis C.
"The launch of this treatment is welcome news as it represents an important new option for patients with chronic hepatitis C that can offer high cure rates for some patients, and be taken as a pill.
"Another significant point is that this treatment removes the need to use interferon, which is a widely used medicine that often makes patients feel extremely unwell."
When daclatasvir is combined with interferon-alpha and the pill drug ribavirin, it can cure 100% of patients with the less common genotype 4 strain of the virus.
Johanna Mercier, general manager of the pharmaceutical company Bristol-Myers Squibb in the UK and Ireland, which makes the drug, said: "We are committed to improving the quality of life of patients living with hepatitis C and paving the way to cure this chronic and devastating condition.
"Study results have highlighted that daclatasvir has the potential to offer high cure rates, notably offering some of its most successful results in genotypes 1 and 3, which account for 90% of all hepatitis C cases in the UK."
In January daclatasvir was brought forward for priority review by the European Medicines Agency (EMA) in recognition of the unmet treatment need.
The drug belongs new to a new family of pharmaceuticals called NS5A inhibitors which target a specific protein in the hepatitis C virus.