The Samsung Galaxy Note 4 will be out in the UK later in 2014 - and while price and availability info remains thin on the ground for how, we've already had a chance to take a closer look.
So what's it like in person - and what's been improved since the last version?
First up, here are the key specs.
Quad-HD 5.7-inch screen
Snapdragon 805 processor
Improved S-Pen with 2048 levels of pressure sensitivity
Heart rate monitor and fingerprint scanner
3.7-megapixels front facing camera
16 megapixels rear camera with image stabilsation
'Fast charge' boosts the battery to 50% in 30 minutes
Enhanced voice call with more mics and better software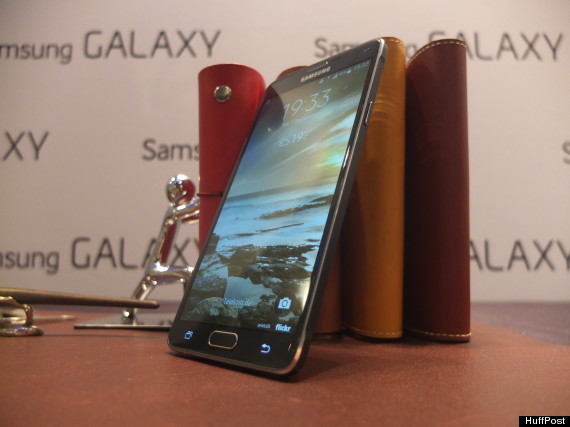 And here's what we made of it in our test:
The first impression of the Note 4 is simply that it's an extremely solid, careful and thoughtful upgrade of the well-received predecessor.
Every key element of the device is enhanced and improved -- it's a much more attractive and solid-feeling piece of hardware -- and nothing else you loved about the previous generations will be missing.
What's not quite clear, though, is whether Samsung has done anything to change the minds of those who didn't already see the point of carrying around an objectively enormous phone in their pocket - or just don't get why you need a stylus.
To take the basics first, the Galaxy Note 4 is a visibly premium phone. The new design, which Samsung says is inspired by a 'Modern Sleek' aesthetic intended to 'preserve the past' while still looking to the future, is straightforward, businesslike, and cool. The metal sides are soft but solid and rigid, doing away with the slimy plastic metal of the Note 3. The soft textured back of the old Note remains, which will irk some, but the carefully rounded glass on the screen and the textured S-Pen reinforce the fact that this is a more mature take on the Note architecture.
The screen itself is dramatically excellent, easily on a par with the other Quad HD screens on the market and pretty breathtaking when tasked with playing the sort of colourful, detailed videos beloved of tech companies trying to demo their new panels.
Take that for what it's worth, but you won't be disappointed: this is 5.7-inches of Super AMOLED mastery.
The S-Pen is also a genuine improvement over what was already a very impressive aspect of the Note 3. The hard nib-on-glass feel is never ideal on any device, but the doubled pressure sensitivity makes a big difference, and the new software additions like being able to select boxes of text or images (like a mouse can on your PC) is intelligent. The new Calligraphy and Fountain Pen S-Note pens are fun to use too, though perhaps a little gimicky.
The other headline features here - faster charging (up to 50% in half an hour), a Snapdragon 805 processor, a 3.7-megapixels 'selfie' (sigh) camera with a built-in panorama mode and improved heart-rate detection over previous Galaxy phones are all welcome, though not game changers necessarily. We'll have to wait for a full test to see how they affect the experience overall.
But our first impression? We're reallyt impressed. This is a serious, careful, insightful improvement over what was already - arguably - Samsung's most impressive mobile handset. It's not a revolution, and it's not presenting any new arguments about why a stylus is the best way to use a phone in 2014. But in a sense it doesn't need to. Samsung has always been okay with allowing you to make up your own mind. We can't wait to do just that in a few weeks' time.