LG has lifted the lid on its vision for the home of the future, HomeChat. The technology is based on the principle of quite simply, chatting to your home.
That's right, LG wants you to start talking to your washing machine. It sounds strange but actually the technology behind it means that it could just work.
For example, if you're leaving home you'd text your home to tell it that you're leaving, this would relay to your robot vacuum which would then start cleaning.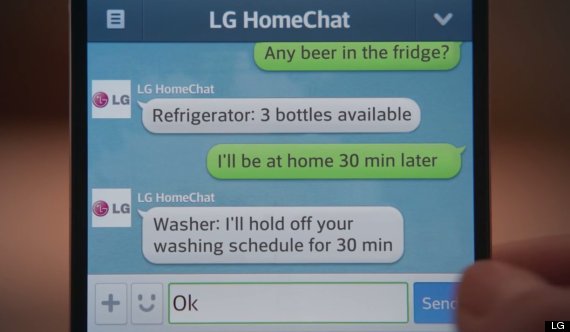 Once you've finished work you start heading home and realise you might need to go via the shops, so you text your fridge and ask it what you need. The fridge then takes a picture of the contents and sends you the image so you can see exactly what you do or don't need.
If you think that's clever then wait till you start chatting to the washing machine. Simply text 'remove juice stains' and the washing machine knows exactly what it needs to do, starting the most appropriate wash cycle.
Texting the oven gets you instant recipe ideas. Once you've picked a recipe the oven automatically sets itself to the right temperature and cooking time.
This may sound like a concept but HomeChat is a real thing and while the majority of compatible products are LG-based the company has also included integration with the Nest Learning Thermostat.