Horrified witnesses have described the moments surrounding the beheading of an 82-year-old woman in North London.
A 25-year-old man has been arrested on suspicion of murder after the victim, named as Palmira Silva, was found "collapsed" in a back garden.
Ms Silva was found at an address in Nightingale Road just after 1pm today after police received calls that a man was attacking an animal and car with a knife.
READ MORE: 82-Year-Old Victim Named After 'Man Goes On The Loose With A Machete'
An Edmonton resident has described how he saw a man brandishing a machete and shouting about cats.
The eyewitness, who did not want to be named, said he also saw a headless cat as he watched the drama from his window.
The man said: "There was a scream so I went to the windows and saw a guy with a machete with blood dripping from it.
"We saw a cat on the floor without a head.
TOP STORIES:
"He was standing in the garden and walking up and down shouting about cats. I don't know why he was looking for a cat."
The knifeman then appeared in the witness's garden and began swiping at plants, he said.
He went on: "He started cutting roses. We were just trying to call the police. You can't think anything in that situation.
"He asked our neighbour if he had seen a cat and the neighbour was afraid and walked inside."
At one point the man climbed on top of a garage, he said.
"He appeared in the alleyway and I saw him raising the machete," the man said.
"Then he came to a front door and nobody answered so he started to bash the windows."
Scotland Yard have not confirmed if the attack was random, but emphasised it did not appear to have a terrorist motive.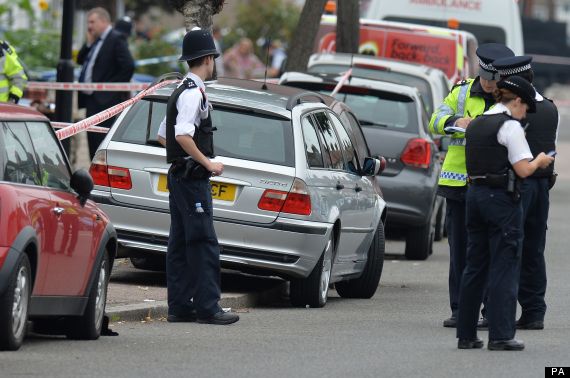 Police on Nightingale Road, Edmonton
Other residents nearby told of their shock. Restaurant worker Freda Odame, 30, said she was about to go to sleep after working a night shift when she heard a commotion at around 1pm.
She said: "I heard shouting and banging and I opened my curtains and saw a guy holding a knife in a back garden a few doors along.
"He was screaming, I couldn't make out the words. I could see he seemed aggressive. He looked a bit frantic."
She said the man, who was dressed all in black, was waving a weapon around towards the floor.
"It was like he was looking for something on the floor," she said.
"I was shaking and I just shut the curtains. I was worried he might see me.
"Then the police knocked on the door and said 'You've got to get out, you've got to get out'."
Another local resident Muhammed Yusuf said police knocked on the door and told him to "get out of the house."
His son Ahmed,19, said: "At first there were two police cars, then all of a sudden there were 20.
"The police said to drop everything. I said 'What's going on?' and they said there's a guy jumping over gardens."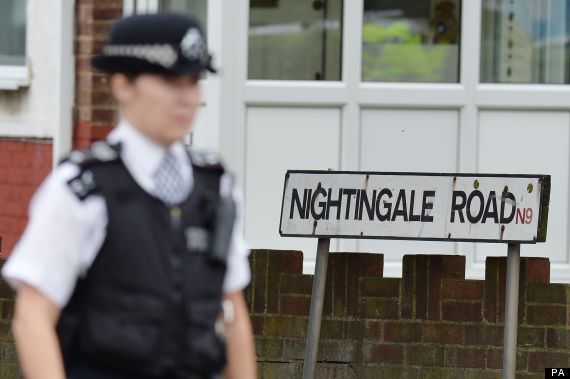 Police on Nightingale Road
A neighbour who knew the victim said she was "such a sweet lady" who still went to work every day in a nearby cafe.
The woman, who did not wish to be named, said: "I've lived here since 1987 and I've known her since then.
"Her husband died about five years ago. I think she came from Italy originally.
"I was speaking to her yesterday. She was weeding in the front garden, she loved her gardening.
"She was sitting having a rest. I said 'You've been doing such hard work, your flowers are beautiful'. She said 'I know'.
"I think maybe today she was in the back garden.
"She was such a sweet lady. She was slow getting around but she still went to work. I think really after her husband died that's what kept her going.
The woman said she was "devastated" at the news. A woman has been beheaded in a back garden
Police officers distracted the man to stop him attacking anyone else while they evacuated houses, Metropolitan Police Commander Simon Letchford said.
He told reporters: "There were a number of people resident. What we do know is that this male has gone along a number of the back gardens of this premises.
"Officers who attended the scene have evacuated a number of those people from those premises to make them safe.
"During that period they distracted the man from carrying out any further attacks."
Scotland Yard said it was also investigating an attempted attack on two people at another house in the road before Ms Silva was killed.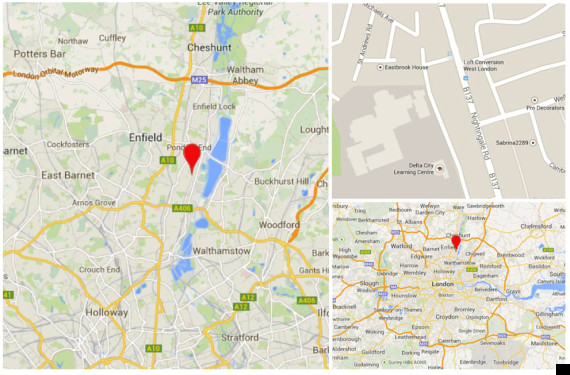 The area in Edmonton, North London
A spokesman said: "At this stage we believe they were both able to get out of the house without injury."
Commander Letchford added that officers had smashed house windows to get people out after the man had been "cornered" in a house.
Metropolitan police said they are not yet prepared to comment on the exact nature of the woman's injuries.
Commander Letchford called the attack on Ms Silva "very, very unusual" and said officer "still need to understand the motivation behind this attack."
The arrested man is currently in hospital being treated for injuries suffered when he was arrested, police said.
Witnesses dramatically reported seeing the man in the area armed with a "machete."
This shit was scary man pic.twitter.com/oxhOYsGGIC

— Emre ☪ (@EmreFederer) September 4, 2014
Madman on loose with a machete in Edmonton North London. Killed someone still not been caught...Sta safe peeps pic.twitter.com/jofn7MJ7zR

— Shabs (@Redbutdred) September 4, 2014
Apparently theres a guy going around Edmonton with a machete...attacking people....if this is true....be safe kids...

— #BCTakeover (@MrFrancisKojo) September 4, 2014