Luton Airport has been evacuated after a "suspicious item" was found in the terminal building at around 2pm Monday.
All incoming flights suspended and thousands of passengers have been moved to the airport's car park area. The approach road to the airport has also been closed.
A bomb disposal squad from Royal Logistic Corps was seen entering the building, and is working to establish what the package is.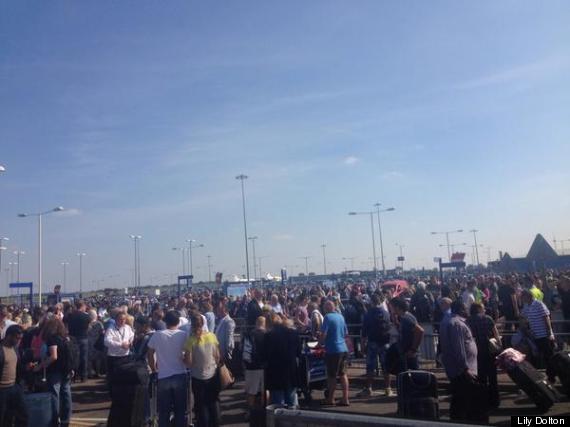 Crowds were moved to the airport's car park
The package was discovered in the security search area, Luton Airport confirmed.
Low cost airlines EasyJet, Ryanair and Wizz Air all fly from the airport.
The airport said in a statement: "The decision has been taken with the police to ensure the safety and security of passengers and staff."
Water is being handed out to evacuees, who have gathered in the car park outside the airport's only terminal.
Freelance photographer Dean O'Brien is at the airport and tweeted that the atmosphere was initially "total chaos" but that crowds were now "fairly calm".
Total chaos at Luton airport. Total evacuation in progress

— Dean O'Brien (@DeanoBeano1) September 8, 2014
Total evacuation at Luton airport still in full progress. No explanation why yet pic.twitter.com/FRZqG2gfnF

— Dean O'Brien (@DeanoBeano1) September 8, 2014
Crowds remaining fairly calm after being evacuated to bottom car park at Luton airport pic.twitter.com/VlG35zMieK

— Dean O'Brien (@DeanoBeano1) September 8, 2014
Luton airport is advising passengers to contact their airlines to find out whether their flights are operating as normal.
It said further updates about the package would be provided as soon as possible.