A 16-year-old schoolgirl from Chorlton, Manchester, who followed her brother to fight with Islamic State militants, has tweeted her concerns about her lost kitten.
In a series of tweets that betray her young age and westernised roots, Zahra Halane, who is in Syria with her twin sister Salma, appears to have fallen out with her jihadist husband over the missing ginger kitten, after he "threw [it] outside."
A picture of the animal lying on a man's chest was posted to Zahra's Twitter account, where she can be seen in a full veil holding an AK47 and kneeling in front of the IS flag with a dagger and a grenade.
She wrote: "Abu hureyra disappeared!!!! inshaa Allah [God willing] we will be reunited in jannah [paradise]."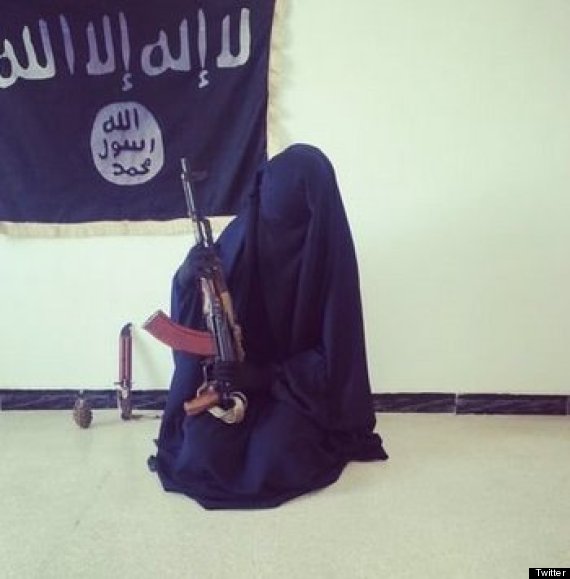 Abu hureyra disappeared!!!! :'( inshaaAllah we will be reunited in jannah. *** <3 pic.twitter.com/Ke1InHBdK8

— Umm Ja'far (@jafarbritaniya) September 9, 2014
@Zinnura_222 no my husband threw outside :( since then he never came back.

— Umm Ja'far (@jafarbritaniya) September 9, 2014
The cat, called Abu Hureyra, is named after an ancient settlement by the Syrian city of Raqqa - an IS stronghold which is the town closest to where US journalist James Foley was beheaded, that has been identified by experts as a hotspot for young British girls who have travelled to join extremist fighters.
A senior member of the Somali community in Manchester said the young girl's comments on the kitten were "disturbing," as the terrorist group continue to carry out violent atrocities across Syria and Iraq.
"Everyone is really shocked the twins are still in Syria with these so-called jihadi fighters who are carrying out such atrocities," he said, according to the Daily Mail.
"Also to talk about a missing cat like she was making a home is very disturbing. We, as a Somali people, are all appalled by their actions but we are also desperately sad for their family."
"They came to the UK to provide a better future for their children and to make sure they got a good education. They don't understand where it all went wrong."
Both twins, the daughters of Somali refugees, had achieved excellent GCSE results, 23 grades A*-C between them at Whalley Range High School for Girls.
The girl's tweets follow another British female jihadist taking to social media to say that she wanted to see David Cameron's head "on a spike."
In a collection of hate-filled tweets, the young girl threatened the PM for "waging war" on IS.
READ MORE: British Female Jihadist Wants To Put 'David Cameron's Head On A Spike'
In sha Allah a day will come when David Camerons head will be on a spike as he continues to wage war on the awilya of Allah

— Al jazraweeya (@UmmKhattab__) September 7, 2014
September 8, 2014
As the terrorist threat to the UK was raised from substantial to severe, the prime minister said last month that legislation would be introduced so it was easier to seize jihadists' passports.
But responding to Cameron's new laws to crack down on terror suspects, the teenager said plans to block passports was "laughable", adding "like we care lol".
I really do not understand why Britain is threatening to remove our citizenship like we care lool its actually quiet laughable

— Al jazraweeya (@UmmKhattab__) September 7, 2014
Experts have warned that women are the new target for recruitment for the Islamic State (IS), with researchers seeing "unprecedented" calls for fighters to marry British and European women.
The women, most of whom are just teenagers, are bombarding IS fighters with marriage proposals during social media 'Q&As' and researchers estimate as many as 50, most of them British, could have already gone to join fighters in Syria and Iraq.
READ MORE: The Lives Of The British Jihadi Women Who Have Left To Fight With Islamic State
"Typically, the women who are out there tend to form clusters, they might be married to Isis fighters in the same unit," said Melanie Smith, a research associate at the International Centre for the Study of Radicalisation (ICSR), King's College, who monitors the recruitment of women by IS told The Huffington Post UK.
The ICSR has warned that many more young women have been making inquiries about travelling to Iraq and Syria in the weeks since the beheading of Foley.
"There's been specific calls for doctors, engineers, lawyers to come to the 'Caliphate', and for a state to function, women need to come, they need to have children", Shiraz Maher, Senior Fellow at the ICSR told The Huffington Post UK.
Four women from the UK have so far been identified by experts.