Liverpool and Manchester United could both do with a right-back but they can do better than to sign someone who was dropped in favour of Maicon just three months ago.
Yes, Dani Alves, who has enjoyed a magnificent career for a defender who cannot defend (like most Brazilians, Thiago Silva excepted), is no longer needed at Barcelona and England's two biggest clubs are both apparently interested in the 31-year-old.
With Glen Johnson out of contract at the end of the season and Rafael da Silva made of balsa wood, it is easy to see why the two north-west clubs want a right-back. However, the aforementioned duo are both, arguably, better than Alves, who is also inherently unlikeable.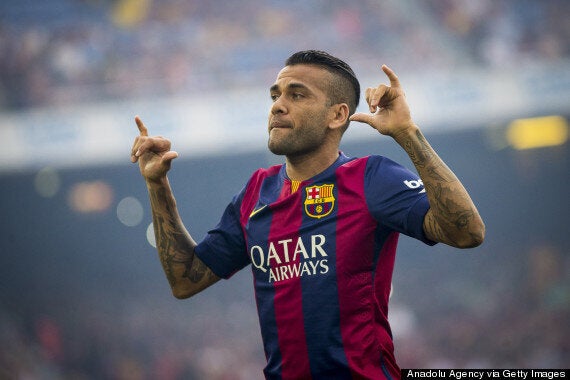 Alves has enjoyed six trophy-laden years at Barcelona
He appears to be coveted, however. Manchester City and Juventus are also rumoured to been on Alves, even though City have Pablo Zabaleta and Bacary Sagna while Juve boast Stephan Lichtsteiner.
Klaas-Jan Huntelaar will be offered a new contract by Schalke in an attempt to dissuade Tottenham, Liverpool or Arsenal from making a bid.
Morgan Schneiderlin was one Southampton player who didn't leave during the transfer window and he has confirmed what everyone knew: that he had agreed to join Tottenham.
And Jack Grealish could commit career suicide if the 19-year-old leaves Aston Villa for Chelsea.