Comedian Dave Gorman has told a court that colleagues on the Mrs Merton Show believed an alleged assault by veteran DJ Dave Lee Travis on a female television personality was "aggressive" and not a Carry On-style "playful" act.
He said the former Radio 1 star had appeared as a guest on the comedy chat show in the mid-1990s when he heard later that Travis had "grabbed" the woman's breasts in the corridor of the BBC television studio.
The alleged victim, who was working as a part of the production crew at the time, told the court yesterday Travis got a "weird sexual thrill" as he squeezed her breasts and the former Tops Of The Pops presenter had an "intense" stare during the incident.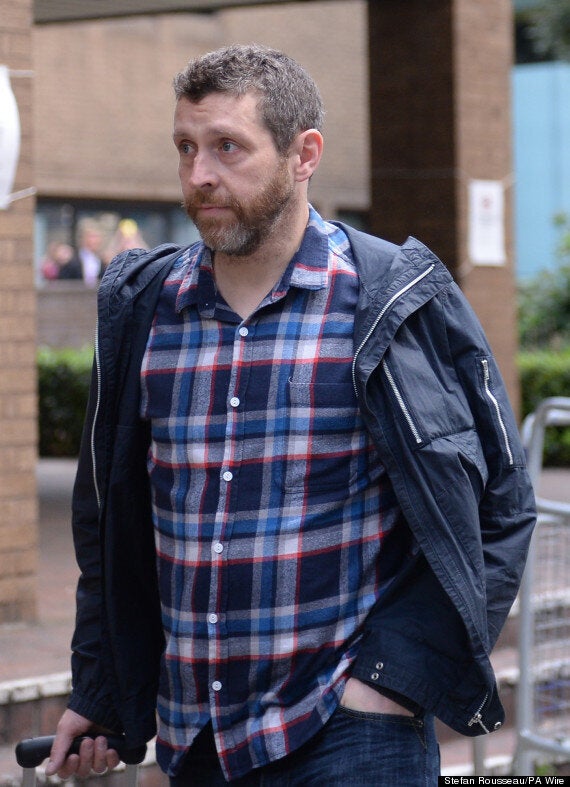 Dave Lee Travis 'grabbed' a woman's breasts at a BBC television studio in a way that was not 'playful,' comedian Dave Gorman (pictured) said
Gorman, who was a writer on the Mrs Merton Show show, told Travis's retrial at Southwark Crown Court in London: "I was told that as (the woman) was escorting Mr Travis back to his dressing room, he at some point....grabbed her t***.
"My recollection was everyone in the team would have known. This was office gossip to some extent.
"My feeling was, if you think back to that time, the idea we'd call the police and say 'Dave Lee Travis grabbed (the woman's) t***', wouldn't have gone anywhere.
"I recall discussions and questions about whether it had been a sort of 'Carry On film wahey', which might be playful albeit ill-judged, or whether it was aggressive.
"My recollection was it was aggressive."
Travis, 69, who is charged under his real name David Griffin, denies two counts of indecent assault and one of sexual assault.
He is facing a retrial on two counts - one of indecent assault of a woman between November 1 1990 and January 31 1991, and another of sexual assault on a different woman between June 1 2008 and November 30 2008 - on which a jury was unable to reach verdicts at a trial earlier this year.
Travis, of Aylesbury, Buckinghamshire, has also pleaded not guilty to an additional count of indecent assault alleged to have taken place on January 17 1995.
The female TV personality, who was in her 20s at the time of the alleged assault, told the court yesterday Travis had approached her while she was smoking and commented on her "poor little lungs", before he squeezed her breasts.
She said she "froze" as she was pinned against the wall by the DJ before he let go of her breasts after 10-15 seconds.
Stephen Vullo QC, defending Travis, told the jury that his client has "no recollection" of the alleged victim.
Wearing a checked shirt, jeans and trainers, Gorman told the court he could not recall who told him about the alleged assault but it was a day or two after it was said to have happened.
The comic said he had spoken with the alleged victim after she was contacted by police and when officers from Operation Yewtree called him, he thought it must be about Travis.
He told the court the alleged assault "was never at the front of his mind" over the years but it was not something he had "completely forgotten".
During his evidence, Gorman, 43, said he still "exchanged Christmas cards" with fellow Mrs Merton writer Craig Cash but the show's star Caroline Aherne was "a bit harder to be in touch with".