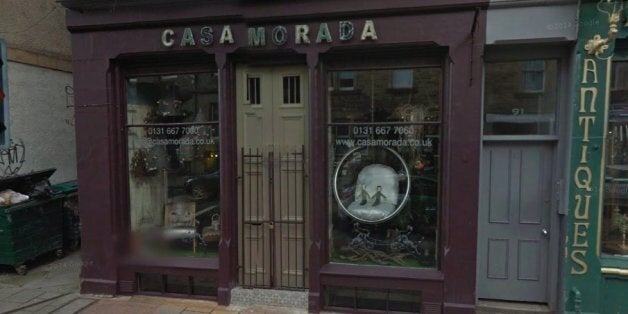 An interior design business has come under fire for offering six unpaid "voluntary internships" totalling nearly 5,500 hours of work and equating to more than £34,000 in wages.
The Edinburgh-based Casa Morada has been reported for investigation to HMRC after the six month-long placements were spotted by eagle-eyed student journalists at The Student.
The company posted an advertisement on job searching website Gumtree in late August, offering six unpaid "voluntary work experience internships" on a 35-hour week for half a year.
Although the company has since taken the adverts down on Gumtree, HuffPost UK was able to locate the original post.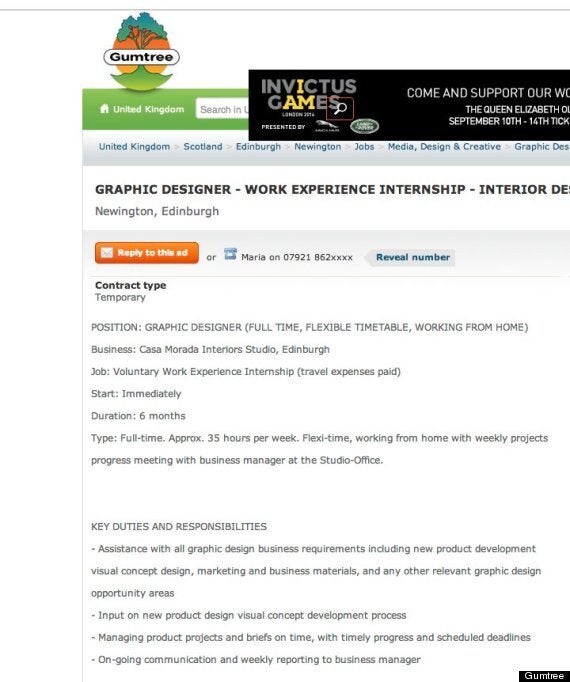 The ads as they appeared on Gumtree before they were removed on 3 September
The combined placements totalled 5460 hours of unpaid work. If the interns were paid the current national minimum wage for those 21 and over at £6.31, the company would be paying more than £34,000 in wages.
Casa Morada stated set hours the interns would work, including some of the tasks they would have to complete under positions such as a CAD technician, social media, marketing and PR assistant, shop retail assistant and graphic designer.
The successful graphic design candidate would have to have weekly progress meetings with the business manager, and would have several "key duties and responsibilities". These would include new product development, managing product projects and meeting deadlines.
Employees are entitled to the minimum wage if they are working set hours and contribute work to the business which improves its value, according to UK employment law.
Casa Morada was sent an email from a member of the public asking why they expected people to work for nothing.
Founder of the business Eva Serrano sent a reply, seen by The Student, which read: "I fully expect you to proof [sic] to me that you can actually be an asset to my business before I invest seriously in you with a full-time contract.
"I deliberately place UNPAID intern positions precisely to sort out the mediocre (you) who will never apply, from the formidable. You will never go far with your present mindset. Rest assured of that. 150 CVs now in, from as far as London, and counting."
Serrano defended the internships, saying in a statement: "We don't believe that working 35 hours per week does in any form disadvantage students from poorer backgrounds, because we all have universal access to 168 hours in every week of the year.
"The question here is how badly do you want to get into the highly competitive creative industry. Some will be prepared to make the personal sacrifice of holding two jobs, one paid, one unpaid, during six months to obtain valuable and priceless experience, increasing their chances of future employability, while others simply won't bother."
Speaking to the Huffington Post UK, founder of graduate careers blog Graduate Fog Tanya de Grunwald said: "Unpaid internships exploit those who do them and exclude those who can't afford to do them. Businesses - big and small - must understand that paying their workers a wage for their work is not optional. It is the law of the land.
"And they don't lead to paid jobs. Young jobseekers contact me every day to say their internship only lead to yet another unpaid internship. Increasingly, the only winners from this revolving door 'system' are the tight-fisted employers who continue to get something for nothing."
Jo Swinson MP, parliamentary under secretary of state for employment said: "Far too many young people have been exploited on long-term unpaid internships. Anyone who is a worker is entitled to be paid at least the minimum wage, including if they are an intern."
Last year Alexander McQueen's advertisement for an unpaid 11-month long internship provoked an angry letter from a university president.
Related